Caroliner @ The Stork Club, Oakland, February 18, 1995
By Victor

Caveat: While it is ultimately futile to attempt to describe this performance by San Francisco's premier noise artists, allowing the fantastic (meaning fantasy-like) events that transpired to go unrecorded would be a shame, so here is an attempt.

Introduction: It all happened in a respectably filled, if not stuffed or overflowing, Stork Club (perhaps the trip to Oakland kept people away). Deerhoof opened up, and although they made a valiant attempt to stir up the crowd with their spastic noise, they never really had a chance, considering the expectation built up for one of Caroliner's infrequent appearances. Indeed, during the last 10 minutes of Deerhoof's performance, a Caroliner roadie wandered the stage putting the final touches on - a rude act that, sadly, probably reflected the impatience in the room.

The Staging: Orange and yellow fluorescent drawings in the Caroliner style (vaguely classical etchings with chaos and twisted patterns) wallpapered the entire stage area, and similar streamers hung across the ceiling. A one-foot-high screen, of consistent decor was set-up along the front of the stage to separate the band from the audience. Finally, hung around the stage were various fluorescent bulbs and stuffed heads, some vaguely bull-like (the centrality of the bull in the Caroliner symbology is a story for another day).

Them: The band shambled and stumbled onto the stage (some from the rear and some from the audience) as Deerhoof exited. There were 7 musicians; their instruments: drums, guitar/trombone, banjo, banjo/keyboards, violin, violin/unidentifiable horn, voice. All were wearing the most impossibly absurd costumes and masks/head-pieces I have ever seen. A few examples follow. (1) The drummer (who wore a beak, kind of a bishop's hat, and fluorescent disks coating his body) carried a "lance" painted to look like an arm extension, which he used to hit cymbals five feet across the stage. (2) The lead singer wore "armor" - fluorescent "shields" attached to his arms and torso and a massive head-piece reminiscent of a shark's dorsal fin, but more rounded. Because the head-piece kept knocking the decorations off the ceiling, he soon disappeared and re-emerged in a bulbous, amorphous grey mask with four floppy ears and a large nose. He sang by pulling down one eyehole and thrusting the microphone into it. He also exhibited fairly unfriendly behavior towards the crowd, often throwing himself into the audience to whip either his arms or a chair around, or to mildly choke a fan. (3) One of the violinists wore a beautiful set of wings with a five-foot-span. He did not move around much. (4) Another interesting participant was a "bull" (?) in front of the stage. The contraption involved a long "neck" with a threatening stuffed head on the end which protruded out of a decorative box. It was made to shake, lurch, and thrust by a woman (in a huge mask with long, twisted horns) who climbed in the box and flailed around.

The Music: The noise all seemed fairly secondary considering the visual spectacle on stage and all around. Nevertheless, once the band members got used to playing in their outfits, it was actually pretty great, if not indescribable. On their albums, the songs feel more like frightful wondrous journeys than collections of individual tracks. Live, their songs stood out even more, with a spastic and lurching sound that featured a banjo predominantly, and involved much grunting, babbling, and some screaming. What is wonderful about Caroliner's music is that, somehow, it does not end up feeling like a contrived effort to be strange.

The Wrap-Up: The whole event felt like a vaguely threatening but terribly addictive dream inhabited by characters that were a cross of Alice in Wonderland, Sesame Street, Carnival, and an active, twisted imagination. Ultimately, you have to see Caroliner for yourself - the next opportunity will probably not come until sometime next year.

by Jimmy and Sean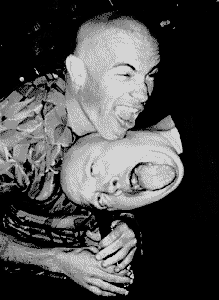 Mike Mattingly & Buster Bloodvessel of Bad Manners
On Sunday, February 26, ska legends Bad Manners were joined by Ultra Bidé and The Brownies for a show at The Edge in Palo Alto. The show was well attended and opened with the punk-noise band Ultra Bidé.
The lights were dim, the guitars were loud, their accents were thick, and my heart was satiated. This was the experimental noise-punk band Ultra Bidé, and they had come to whisper their ancient, eastern secrets into your soul, under the guise of screechy vocals and wigged-out guitar layers. Why did they open for Bad Manners? I haven't a clue, my friends, but they quickly took control of the scene and belted out a forty-minute set that would make your mother collapse in tears of bitter-sweet agony. Really.
Ultra Bidé is composed of three wacky Japanese fellows: Hidé (vocals, bass),
Satoru (guitar, vocals), and Tada (drums, vocals). The crowd (who was mainly awaiting ska giants, Bad Manners) was parse and no one really knew just how to react to this blast of tight, repetitive, hardcore truth. This led to quite a few confused and worried looks among the audience. Ultra Bidé, however, did not give a shit.
While Satoru stood noodling on his guitar, Hidé jumped furiously, acting the part of the "Angry, Japanese Punk" better than Brando. All the while, Tada pounded relentlessly on his drums, stopping only to smash the gong situated next to him. Filled with youthful energy and eager to break through the borders of your average punk-noise bands, Ultra Bidé are an act to admire.
In the words of Tada, "I hate hippies."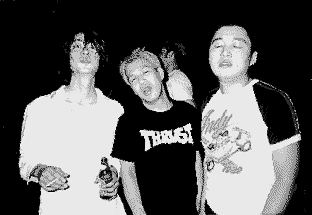 Ultra Bidé
Next up were local ska and reggae performers, The Brownies. They warmed the crowd up with an hour of energetic up-beat ska songs topped off by a cover of Guns of Navarone, which got the crowd on their feet and dancing. After The Brownies finished their set it was only 20 minutes before Bad Manners got on stage. They began with a lively ska instrumental in the Two-Tone style of ska that they're known for and when they finished, Buster Bloodvessel, the lead singer, as fat and as bald as ever came on stage, and launched into My Girl Lollipop, one of their classics from the mid-80s. Buster, moving well for someone of his enormous stature, jumped and danced around stage while the audience danced away on the floor below. Bad Manners played an hour of ska featuring Educating, Marmalade, Ska #8, and a cover of Guns of Navarone. After an hour of skanking away, they left the stage, only to return for an encore featuring Lip up, Fatty.
After the show, Buster told us that he felt that the show was a great one because all of the kids who came to see them play had a great time and danced throughout the show. In addition, he said that he felt that ska's biggest asset was the fact that kids are constantly discovering ska, bringing larger and larger numbers of fans to the genre. Buster went on to discuss the changes he had seen in ska music in his 19 years playing ska with Bad Manners and where he felt ska music and Bad Manners were going in the future Buster finished by saying that since 1996 will mark 20 years of Bad Manners, they plan to release 20 albums next year, including several box sets of old material, as well as new songs they have written since recording Fat Sound several years ago.


From the Top of the Tower at the Top of the Hour...
Let your voice be heard above the snore of Stanford static. Exercise your right to free speech - create your own talk show.
The KZSU News department welcomes ideas, energy, and initiative to make your words count in a way that few environments encourage. Report in your own style or just read the news, but don't miss your opportunity to make some serious waves on 90.1FM, Stanford.
The KZSU all-student news staff brings you daily updates at 5 p.m., as well as in-depth features, national headlines, and local stories in its news magazine, Inside Stanford (check the schedule for air time). The News department is a great place to explore attitudes of the Stanford community while learning broadcasting and interviewing skills.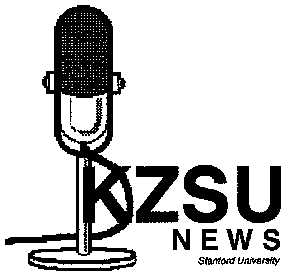 ---

Previous.

Contents

Next.

KZSU

Stanford.
---
Comments and questions should be send to webmaster@kzsu.Stanford.EDU.