Basketball with Mike Watt
by Sean Kennedy

On Thursday, May 18, two young DJs from KZSU, driven by wild desires and aspiring souls, journeyed to San Francisco for an afternoon of basketball, mediated by notorious bassist, Mike Watt. Tim, ('Watch Tomorrow Burn') and I, Sean ('Oodie Doodie'), joined forces with other West Bay radio stations to confront the stations of the East Bay, in a wily game of hoops.

As we arrived at the gym, Tim and I stretched out, while Lovechild, the photographer, surveyed the competition. Mike Watt came in about 30 minutes late, and stumbled across the court. Man, was he ripped. So he sat in the bleachers and kept score for the first half.

We met a guy there named Rick Sylvain. Dressed in cow shorts, and sporting sunglasses, he was the biggest piece of shit I have met in my life. Strangely enough, I ended up guarding him during the game, simply because he was the only person there who played worse than I did.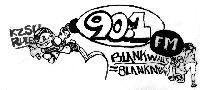 While I enjoyed running back and forth across the court, chasing down Mr. Sylvain, I never really touched the basketball, except for when it slammed into my fingers, and popped a knuckle out of joint. Tim, on the other hand, displayed magnificent skill and dexterity, when he dunked a couple of shots.
At half-time, Watt staged a short interview, and people asked him really dumb questions, like, "I love Henry Rollins, do you love him too?" and "I think MTV sucks; Watt, can you validate my anger?" People had nothing interesting to ask, and I'm sure Watt realized it, since he left soon after, looking tired and generally baked.
Well, our side won the game, so KZSU made out with a $150 gift certificate to Tower Records, which we quickly spent on the new Police boxed set. Also, this goateed, baby-faced hipster gave Tim and I some 'phat' shirts and sweat-shirts that sport an 'X-large' logo on them. Now we are walking billboards.
What did I learn from this experience? Musical icons get old and tired, just like everyone else. Except Dick Dale; he is rad.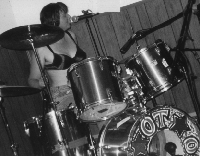 San Francisco's Ovarian Trolley played KZSU's Wednesday Night Live recently. Did you hear it?
TIM'S VERSION:
Ah, yes, Sean was magnificent that day, leading all scorers with 23 points. I achieved the first triple-double of my career (2 points, 2 assists, and 2 rebounds), but the game transcended such meaningless statistics. It was a game in which DJs--those sharing a passion for two-minute, three-chord songs--could share sweat and fight for indie-cred bragging rights. And to think I was going to pass up the opportunity until I heard about the free sweatshirts.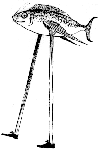 ---
Back to the Incatation Review | Forward to a Book Review | Return to the Table of Contents
---
---
Comments and questions should be send to webmaster@kzsu.Stanford.EDU.