KZSU's Summer 1995 Program Guide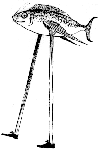 Hey there. Welcome to the online version of KZSU's Summer Program Guide. Sorry for the huge delay in getting this information to you, but hey, that's life. The digital version of the guide is very similar to the printed version, minus the cool layout work done by Stefan and the killer cover and grid by Gustavo. If you would like to get on our mailing list for the printed guide, drop us a message. The fall schedule and guide will be out around the second week of October, so look for more reviews, interviews, pics and craziness then. Let me know if you have any suggestions or improvements. Thanks!
Regards, Secret Agent
---
KZSU: Who, What, Where
KZSU's broadcast license is held by the Board of Trustees of the Leland Stanford Junior University and the station is operated by members of the Stanford community. KZSU broadcasts at 90.1 MHz FM with effective radiated power of 500 watts. Our studios are located on the Stanford campus in the basement of Memorial Auditorium. We can be reached at P.O. Box B; Stanford, CA 94309. Phone: Request line 415- 723-9010, Business Line: 415-725-4868 Email inquiries should be addressed to info@kzsu.stanford.edu
The URL for our World Wide Web page is http://kzsu.stanford.edu
We welcome questions, comments, and correspondence of any kind. Become involved! Come by our "New People" staff meeting on the first Monday of each month, or come to the next organizational meeting on September 27. Listen to KZSU for locations.
This quarterly publication is the work of the on-air staff of KZSU with contributions from folks too numerous to list but all warmly thanked.
For this issue our editorial staff was:
Managing Editor: Secret Agent
Layout and Design: Stefan, Gustavo
Mailing and Distribution: Mike Howes
Advertising: Jimmy Maas
Printing Consultant: Mary Miller
Art/Photo Contributions: Kathy Ushiba, Raven, Secret Agent, Linus Up, Amy,
Glenn, Jerry Haussler, Brent Wolford
Proofing: Ali Salomon, Chanel Wheeler, Klee, Kara Whacked
Printer: Folgergraphics, Hayward
---
Foward to the Jerry Only Interview | Back to the Table of Contnets
---
---
Comments and questions should be send to webmaster@kzsu.Stanford.EDU.