Reviews: Film
PANDORA'S BOX
by Eva
As part of the San Francisco Film Festival, G.W. Pabst's 1928 silent film Pandora's Box played in early May at the Castro Theater. The Clubfoot Orchestra accompanied the film with their original score. This was the best Clubfoot score I've heard yet and I hope it will be recorded. At times the music meshed so well with what was happening on screen that I was almost oblivious to it...a funny kind of compliment but really the highest praise for a movie score. At other moments the music stood out more, adding depth and emotional content to some of the film's more dated and/or drawn-out scenes. A few scenes show characters making music--playing piano, or a marching Salvation Army band--and the score matches the on- screen action in a way that's clever without being literal. One particular theme, a melancholy, cabaret-type melody, is repeated at different points in the story and adds continuity. It reflects and enhances the exaggeratedly passionate emotional world of the film, then adds a kind of contemporary commentary with more rock-ish guitars and drums. As a whole, Clubfoot's score functions in this way: as both accompaniment and interpretation.
Pandora's Box stars Louise Brooks as Lulu...some of you may be familiar with her in this role from the stills that decorate Zorn's News For Lulu albums. Her performance, and that of the actor who plays her decrepit, amoral, selfish friend/patron/pimp, are excellent. The silent film style emphasizes lots of long, close-up shots of the actors as they attempt to emote. But the best parts of Pandora's Box are action shots and sequences...Lulu swinging gleefully from the arm of a vaudeville strong man as if it were a chin-up bar, scenes set on board an illegal, palatial riverboat gambling club, and an incredible sequence set backstage at a musical revue in which Lulu is the star. This last features amazingly fluid camerawork, with one great shot after another, piling up in a frantic rhythm perfectly matched by Clubfoot. The print was terrific: the look of the film is beautiful, with elaborate costuming and eloquent lighting. The plot....well, I'll be kind and skim over the plot. Let's just say that the film is an elegant exposition of selfishness and self-centeredness and their tragic consequences...and of the evil nature of women's sexual power, but that's another story. Overall, a fun and enlightening media experience...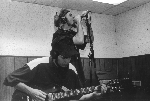 Florida natives Bloodlet on KZSU's Checkpoint Charlie
THE 38TH ANNUAL SAN FRANCISCO INTERNATIONAL FILM FESTIVAL: some completely random observations by MC Squared
Everyone at the Kabuki wears vests. Very few vests in evidence at the Castro. Never, ever any vests at the PFA. What's up with that?
DJ Kitty and I were accosted by a middle-aged couple while in line for Son of Gascogne. "We saw this film last night about this band you wouldn't believe ... they put out this album with a big 'U' and a big '2' on it, but it wasn't really the band U2. You wouldn't believe these kids, how creative they are."
POM POKO (Japan)
Animated feature about how the racoons on the outskirts of Tokyo revive the ancient art of transmogrification in order to infiltrate the humans and foil their plans for suburban expansion. There's no shortage of goofy humor here but there's also a successful attempt to address a serious issue without using the animals as mere stand-ins for humans and human interests. Not only did I enjoy this a lot, but it helped me understand why I hate Disney so much.
PRETTY BABY (Germany)
Very funny farce about a macho, incurable heterosexual who falls in with a gay male crowd when his girlfriend kicks him out. You'll want to see this before Hollywood gets its hands on it--the director said that a U.S. version is in the works. Kitty and I have already cast this: Tom Cruise as macho stud, Meg Ryan as his homophobic but loveable girlfriend, Jon Lovitz as the wise by sadsack gay friend, Pauly Shore as the flamboyant Waltraud.
KIDS PLAY RUSSIAN (France/U.S.)
This perverse mess was perhaps the most dignified response Godard could have made to Aaron Spelling's request that he make a TV documentary about Russia. But one has to wonder now--who's the greater performance artist, Godard or Spelling?
VIVE L'AMOUR (Taiwan)
An extraordinary film in which the (very little) dramatic action centers on the comings-and-goings of three people in and about an unoccupied apartment. This is, in part, about the banality of voyeurism and is appropriately enough both voyeuristic and banal. The first twenty minutes or so go by without a word of dialog, and while we observe the characters in excruciatingly private moments (suicide, sex, masturbation, and completely meaningless solitary activities) there's virtually no genuine human contact in the film. Tedious and brilliant.
LIVING IN OBLIVION (U.S.)
The amazing Steve Buscemi stars as an independent film director trying to make a low-budget production in which everything imaginable goes wrong. Aside from being just hilariously funny, this film impressed me by taking the worst Hollywood cliche and stretching it to an absurd extent. This should be in theatrical release by the time you read this.
IVAN CHONKIN (Russia/ Czechoslovakia)
I intend nothing but praise when I compare this gentle satire of military and small-town Soviet life at the beginning of WWII with a top-notch episode of Hogan's Heroes.
ARIZONA DREAM (U.S.)
Irreconcilable rules of Film Festival attendance: Don't see any film that's already been dumped on the direct-to-video market. See any film that teams Jerry Lewis with that Dean Martin-for-the-90s, Johnny Depp.
THE ADDICTION (U.S.)
The latest from Abel Ferrara,who was on-hand to serve up this steaming plate of cinematic shit. Gangsta emeritus Schooly D rapped an intro as Joe Delia abused the Castro's Wurlitzer. How could we know things would get worse? Interpreting generously, this is an examination of the nature of evil by way of a vampire story. Only, there doesn't seem to be much to being a vampire other than becoming a bit paler, wearing circa-1968 Lou Reed shades, and spouting sound-bite philosophy which, when it approached comprehensibility, fell far short of the kind of analysis for which Trent Reznor is best known. Verbatim monologue from Annabella Sciorra: "We're not sinners because we sin; we sin because we're sinners. Or, to make it easier for you to understand: we're not evil because we do evil; we do evil because we're evil."
We stayed 'til the end but left promptly so that the Castro could commence with fumigation.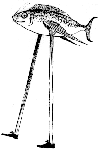 ---
Hey, you have reached the end of the program guide (provided you stepped through it in the order provided in the table of contents. You can do one of several things now:
---
---
Comments and questions should be send to webmaster@kzsu.Stanford.EDU.