REVIEWS: MUSIC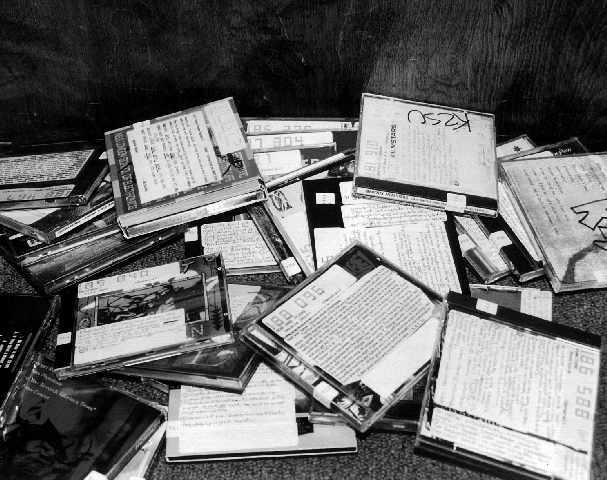 TODD LEVIN DE LUXE (Deutsche Grammophon)
Destined to spawn the first 12" remix in the history of the DG label, this New York (by way of Detroit) composer's latest album will be reviled by most fans of classical music (modern and traditional alike) as well as by DG's presumed intended target audience of young hipsters. That leaves those who appreciate irony, camp, and audacity, not to mention orchestral music with a backbeat. Of the five tracks here, one is a reminiscence, spoken by the composer and backed by swirly strings; the remainder are bombastic, humorous, toe-tapping, and mostly catchy compositions performed by the composer and the London Symphony Orchestra. Two of the tracks don't rise far above John Williams' movie soundtracks but the opening cut, "Blur", is a mature composition (with a backbeat, natch) reminiscent of Louis Andriessen's experiments incorporating popular music elements into orchestral music, and the centerpiece, modestly entitled "Todd Levin", is howlingly funny. The half-hour piece consists of the LSO bashing it out in the background while a reporter interviews Levin about his music. Levin manages to avoid the immediate topic but does go off on tangents involving Star Trek, the Osmonds, Republicans, non-Gen non-X, the bankruptcy of post-modernism, and whatever else comes to mind. At one point, he begs the listener's indulgence while he starts to rant about reviewers who have accused him of being the murderer of serious music. Occasionally, a soprano pipes in. It's really something to behold. (Gabe)
THE VULCANEERS BAMA LAMA LULU 7"
(Radio X) Hailing from the planet Vulcan, these five ferociously drunken lads have beamed down to Earth once again to deliver three low-fi trash scorchers that rage as hard as the Mummies. Fuckin' slams, wild, raw, killer screaming, trashy stomps, cool organ, guitar freak outs, and one smokin' instrumental. It's all here. Get it while you can. (Lovechild)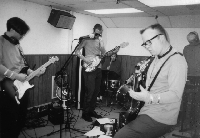 The Vulcaneers beamed down to KZSU's studios recently. That's Dr. Sauce on the right!
TINDERSTICKS TINDERSTICKS (This Way Up, UK)
The Tindersticks have released another double LP's worth of smoky cabaret stylings and deep-voiced mumblings about dark secrets. The group's first LP was one of the highlights of 1994. (Though I inexplicably forgot to include it in my Top 10, even now, a year later, I find myself listening to it at least once a month, often much more.) This year's model is a bit darker and due to some spotty songwriting, takes longer to grow on the listener. The Hammond organ has been pushed to the back, popping out to add an accent now and then, the lyrics are a bit more comprehensible, and the music is a black gauze - cool and soothing to the touch; though you can feel the pain underneath, you're actually relieved that you don't see too clearly the sores it covers. (Gabe)
SIERRA MAESTRA DUNDUNBANZA WORLD CIRCUIT (Rounder) CONJUNTO CESPEDES VIVITO Y COLEANDO XENOPHILE (Green Linnet)
Two new albums featuring Cuban music you'll want to both dance and listen to. Sierra Maestra from Havana has been around since the late 70's. They play a modernized version of "son" which for most of us is indistinguishable from salsa. Whatever you call it, it's smooth yet driving. Soaring trumpets with a ensemble of rough-edged male vocals with a nice harmonious blend. The CD is very cleanly produced, but still projects a rootsy and suave nightclub.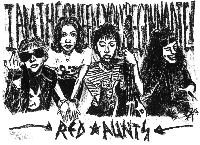 The Red Aunts, as drawn by DJ Amy.
The Bay Area's own Conjunto Cespedes are alive and kicking (I didn't make up that phrase, it's the title of their album). Lead by Glady ("bobi") and Guillermo Cespedes they have released a fine followup to last year's "Una Sola Casa." CC manages to combine traditional music, excellent musicianship and energy into sheer pleasure. Unlike Sierra Maestra, I would not consider them primarily a dance band, yet at their recent CD release party at the Great American Music Hall, the majority of people were dancing. Vocalist Bobi gives a charismatic performance, going easily from powerful Yoruban chants to smooth crooning mambo. Check out their albums or better yet go see them and dance. (Ofer)
BLACKTOP MOJO KITTY 7" (In The Red)
WOOO!! Dig it, blues hipster. Two groovy cuts from this new band featuring Mick Collins of The Gorries, and Darin Lim Wood from '68 Comeback. "Mojo Kitty" offers one helluva groovy rockin' bluesy crusher with fab guitar distortion interludes. Mick has got the hella raspy vocal grit goin' on. B-side is slower with swingin' vox: for the bluesy love poet in your life. (Lovechild)
JOHN ZORN AND FRED FRITH THE ART OF MEMORY (Incus)
These improvised sax/guitar duets are dedicated to guitarist Derek Bailey and saxophonist Evan Parker, who were daring these without-a-net kinds of improvisations when Zorn and Frith were just starting out. Both have always acknowledged the influence of the elder musicians, and there seems to be a moment at the very beginning of this disk when it sounds as if the tribute will be literal: Zorn sputters and clicks much like Parker while Frith nearly imitates Bailey's inimitable guitar-in-reverse sound. But this is just a nod and soon the two adopt a vocabulary which will be very familiar to anyone who knows their work. Zorn's headlong rush lives up to his name and Frith corrals an incredibly wide range of sounds - from sweet to metallic - occasionally providing a little rhythmic groove ... not the sort of thing you'd look to Mr. Bailey for. The longtime musical empathy between these two make for coherent, exciting, and varied improvisations. (Klee)
JOHN VOMIT & THE LEATHER SCABS PICKED OFF THE LITTER! 7"
Stanford band circa 1978. By their picture, you might decide that they are garbage, and you'd probably be right. Nevertheless, this is a low-fi gem of punk-garage shit. "I Suck" is pretty repetitious, but the low-fi vox brings to mind Billy Childish. "Punk Rock Star," the B- side, is the garage send-up that makes this 7" a true classic. It's a pure anti-sellout anthem... like these guys ever had a chance. (Lovechild)
OBLIVIANS SOUL FOOD (Crypt)
If Jon Spencer is the patron saint of exploding blues punk, then the Oblivians are the gargoyles toiling in the gutteeeer of down n' out blues punk raw filth. These boys have the soul of The Gories, the attitude of The Rip-Offs, the bitterness of Billy Childish, and the intensity of Guitar Wolf. You can feel the sweat from the pounding fuzz blasts all the way from Memphis. Includes a Lightin' Hopkins cover & two covers of Trio!! (Lovechild)
IVA BITTOVA NE NEHLEDEJ (Frekevence/BMG)
The real danger in working in college/non-comm radio isn't so much poverty as it is the danger of serious injury from patting yourself on the back. So sure are we that we can recognize genuine music making in the face of the evil corporate juggernaut that we feel pretty fucking stupid when the real thing finally comes along. This is the real thing. Bittova is a Czech violinist/vocalist who has collaborated with the likes of Fred Frith and Pavel Fajt for a number of years. She gets a little bit of help from Fajt on this album but it's pretty much just her violin, and her stunning, heart-melting voice. While much of the music sounds like it's based on folk melodies (as much of Frith's music does) Bittova takes the material well into personal, idiosyncratic territory. She can make the smallest of gestures--like the music box on the title track--with maximum impact. And damn this music is so emotionally direct and beautiful that it took three or four listens before I caught on to the clever song structures. (Klee)
DIESEL QUEENS HOOKED ON MORONICS (Sympathy For The Record Industry)
These guys are really sick. But often, perversity is accompanied by musical genius, and in this case it definitely holds true. From the album cover, they look like a bunch of fat, middle-aged dorks, but looks can often been deceiving...or maybe not. This album is the first full-length release by San Jose's very own toilet-punk group, including all of their earlier 7" releases, to provide a complete discography. Most songs are a blast of raunchy, punk excitement, that will make you smile, cringe, and grunt, all at the same time. My faves include "Happy Peppy," "Waterhead Boy," and the anthemic, "Fuck'n Drink." I must admit that the boys do go overboard on some tracks, like "Parlez Vous Pou-Pou," or "Man-Boy Love" but the kah- razy, rocking tunes redeem them from the street-gutter. If you're in the mood for musical smut, childish humor, or music that will make your skin ignite in a phosphorescent-blue aura, check out the album. (Sean Kennedy)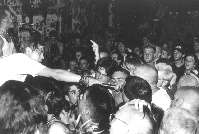 AFI punk-rockin' at 924 Gilman St. Will they be on a WNL soon?
CAMILLE YARBROUGH THE IRON POT COOKER (Vanguard Recordings, 1975)
This is the first album of poet/singer Camille Yarbrough. Adapted from her concert presentation, "Tales and Tunes of an African-American Griot," the album recalls experiences from Yarbrough's own life and the lives of those around her - from her childhood in a Chicago ghetto to New York City where she moved as an adult. Man troubles, job troubles, Littly Sally the Super Sex Star and the Go to Church Every Day and Twice on Sundays Panic are all part of The Iron Pot Cooker story. The tracks on the first side are Yarbrough's poems recited with musical accompaniment, and on the second side she sings. My favorite pieces are "Take Your Prouse," "Dream-Panic-Sonny boy the Rip-Off Man," and "But It Comes Out Mad." Yarborough is an extremely talented and original artist and her album comes highly recommended from the Atomic Daisyfunk archives. (DJ Amber)
AMBUSH LACH! (Common Cause)
This release is an intense mix of heavy sounds. Imagine combing 2 parts Black Sabbath, 2 parts Neurosis, 1 part It Is I and 1 part Buzzov*en. As you would expect, this is gloomy, powerful, sludgy intense stuff. Mostly on the slow side of things, it just rumbles along, but occasionally speeds up ever so slightly. There are lots of transitions from really quiet passages to really intense, angry, agonizing passages. Feedback here and there, heavy riffs all over the place. Tribal in spotslot like Neurosis' Enemy of the Sun. Female vocals appear in several places. A cello and a piano show up on a couple songs, and really add to the music, adding a lot to the doomed sound of this release. Some ambient, spacy overtones to the whole thing add to that gloomy feeling. This music is low-fi rumbling rock. The bass seems to guide most of these songs, it has a ruff, distorted "ratty" sound to it, nice. This release gets the KICK ASS seal of approval. Check out the lyric booklet inside, it is really well done. (Secret Agent)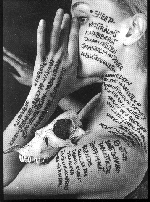 A page from Ambush's bi-lingual lyric booklet.
1,4,5'S UNSAFE AT 45 7" (Prole Art Treat)
Loud Lo-Fi stompingly good garage punk blasts of "FUCK YEAH!" Poppy, trashy, with killer licks all over. Six songs--half will make you boogie, and half will kick you in the face. Blistering good shit with balls to boot. (Lovechild)
KITTY CAT SPY CLUB/ TEENAGERS 7" (Radio Trash)
Garagey punk split by the coolest kids from San Jose and Belmont. Low- Fi screaming melodies buried under a cool 4- track sound. Too good to sound retro. (Lovechild)
THE MOUNTAIN GOATS AND ALASTAIR GALBRAITH ORANGE RAJA, BLOOD ROYAL 7" (Walt)
My God, what can be better than this? Here are four more amazing songs from Upland, Calif.'s The Mountain Goats, and this time they have teamed up with New Zealand's Alastair Galbraith who has added violins, harmonicas, and other instruments to John Darnielle's great acoustic guitar work and insanely perfect passionate voice. The results are again, amazing: more melody, more sounds and more depth. The violins here are reminiscent of Tattle Tale, and do a wonderful job of conveying the melancholy and reflection that characterize most of The Mountain Goats' songs. This is one of the better singles to emerge in the past millennium, and if you ever have a chance to see The Mountain Goats live, be sure to take advantage of your good fortune: they're harder to catch than a dollar bill dropped down between your thumb and forefinger. (Chi-hui)
POP PARKER WINONA, I'LL BE UP MY NAN'S (Vinyl Japan)
Four-song CD that has involuntarily built up my expectations for a new hero. What you've got here is The Jazz Butcher meets Jonathon Richman with a bit of Billy Bragg and The Beatles sound thrown in. Pop's songs are goofy--this side of bizarre simple and playful. The first track is the catchiest and prettiest, reminiscent of Bragg's "Greetings to the New Brunette." The other tracks are more sparse. (Kara Whacked)
GAMELAN PACIFICA TRANCE GONG (What Next? Recordings)
Seattle's Gamelan Pacifica uses Indonesian gong-chime music as a basis for their own stunning creations. This acclaimed ensemble performs contemporary music taken from American and Indonesian composers and traditions. Here they combine traditional Gamelan gongs and chimes with bamboo flute, Chinese violin and percussion, and the occasional digital processor to create music that's fresh, fascinating, and passionate. Moods and rhythms vary wildly as chimes, gongs, and percussion weave fragile, shimmering veils of sonic lace; explode into jagged shards of glittering sound; or create a quietly radiant interpretation of a John Cage composition. (Mary)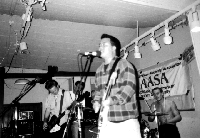 Aminature live at the Stanford Coffee House.
STEPHANIE MECHURA ELLIPIS
I hate to call this folk music and then have half of you not read on. This is a girl and a guitar--her voice soft and contagious; her guitar strong and warm; songs full of stories, loves, epiphanies. This debut album is full of unpretentious and well written songs. The tunes become more catchy with each listen, begging you to sing along. (Kara Whacked)
THE HONKIES WHO EATS? (Megaphone)
Second extraordinary album from this British quintet of trumpet-saxes-cellobass-drums (everybody sings). Is there someone I can write to and insist that they tour the U.S.? I mean, we're talking about a band which effortlessly recalls Ornette, The Ex, the Dog Faced Hermans, the Art Bears, and elements of British free-improv. Yes, they're really all that and more. This album rocks a bit less than did their first, All My Screws Fell Out, but the compositions and playing on this album are more sophisticated and still a lot of fun. If you think a band without a guitarist can't rock you've got a lesson waiting for you here. Same goes for those of you who think that a rock band can't improvise. The Honkies continue to combine intelligence and visceral excitement better than any group of musicians I can think of-- rockers, improvisers, whoever. (Klee)
MUSIC OF INDONESIA 4: MUSIC OF NIAS & NORTH SUMATRA (Smithsonian Folkways)
This is my favorite album (so far) of Smithsonian Folkways ' extraordinary Music of Indonesia series! This remarkably unique and beautiful music--virtually unknown outside of Indonesia-- borrows little or nothing from European, American, or Middle Eastern music, Javanese gamelan music, or even music from the rest of Sumatra. Gongs, chimes, drums, lutes, xylophone, bamboo, flute, and oboe spin fast, intense rhythm webs or slower, heart-stoppingly beautiful patterns, while several all-male choirs perform elaborate, deeply moving funeral music. Well-written, detailed liner notes provide fascinating information about the music, the artists, and the cultures.(Mary)
---
Forward to Just Ask Glenn | Back to the Jerry Only Interview | Return to the Table of Contents
---
---
Comments and questions should be send to webmaster@kzsu.Stanford.EDU.