MONDAY... MONDAY... Monday...
---
Monday 6-9 AM
MIXED UP CLASS Romain
Varied faces of western classical genres, including choral, vocal, local artists, and occasional musical humor, plus connections between subgenres. Stanford area classical music calendar.
---
9 AM-Noon

HOT COFFEE AND A FULL TANK OF GAS
Kara Whacked
Take a road trip with Kara Whacked every Monday morning 9 AM to noon! Melancholy, madness, music, and the open road await you.
---
Noon-3 PM
I LIKE IT Everett
Avant (rock and jazz). Post (rock and classical). All kinds of art music combined and juxtaposed into a stimulating flow. Fripp, Zorn, Tortoise, Gorecki, Henry Kaiser, Coltrane, Slint, Arvo Part, Richard Thompson, Laswell, Shellac, and Cage.
---
3-6 PM

FUEL

Stefan
Spoken word fuel for you; The likes of Howard Zinn, Noam Chomsky, Helen Caldicott, Frances Fox Piven, Ken Cheetham's Bay Area Activist Calendar and some live guests if all goes well. Abrasive and slightly less abrasive music of many genres, with tendencies toward grind.
---
6-6:30 PM
IN YOUR NEIGHBORHOOD Leonard
or
ON CALL Doctor B.
In Your Neighborhood: A forum featuring local community interest groups, focusing on interests of the community at large. On Call: News you can really use about your health and the latest breakthroughs in medicine..
---
6:30-7 PM
INSIDE STANFORD
What's going on at Stanford. The latest in Stanford news.
---
7-9 PM
PALO ALTO CITY COUNCIL
Your weekly dosage of meetings and agendas for Palo Alto... all narrated by Vince!
---
Monday 9 PM-Midnight
MATTER Pharaoh
Sound over matter, anti-matter, doesn't matter. Bridging the gap between politics and midnight.
---
Midnight-3 AM
I WISH I WERE A LITTLE RADIO John
I like movies and I like to talk about them, sometimes to excess, and always with other folks. Therefore you can join in! Besides that, I play all the music.
---
3-6 AM
GOD ONLY KNOWS Mystery DJ
A new DJ every day... a new DJ every week... check here to find the up-and-coming DJ's of tomorrow doing the early slots of today!
TUESDAY... TUESDAY... Tuesday...
---
Tuesday 6-9 AM
THAT POP THING Scotty M
Indie rock, pop and new wave from yesterday, today, and tomorrow. A tantalizing and delicious mess that will drag you kicking and screaming through the sugar-coated bowels of modern music.
---
Tuesday 9 AM-Noon
THE INDIE LOCAL SHOW Tomb
All-local, all-indie music from all sorts of genres.
---
Tuesday Noon-3 PM

WAKE UP AND LIVE!

Russell
Jamaican music of all styles and eras: reggae, roots, rocksteady, ska, dancehall, dub. Listener requests, ticket giveaways, craziness, seriousness and love. No two shows alike. Listen and participate.
---
Tuesday 3-6 PM
THE WHAT'S HAPPENING TO MY BODY SHOW Debra
Lots of noise, obnoxious comments, useful information and surprises. Oh yeah, music too. Punk, pop, garage, noise, etc.
---
Tuesday 6-6:30 PM
DOC TALK Bryan
Your weekly dose of health and medical information
---
Tuesday 6:30-9 PM
KILL KITTY CITY Kitty
DJ Kitty scratches, wails, screeches and purrs her way through the new music jungle.
---
Tuesday 9 PM-Midnight
AN EPIPHANY OF SOUND J.C.
Techno is your friend. But so are a lot of other musical styles. Discover this for yourself on An Epiphany of Sound.
---
Midnight-3 AM
IN THE CATACOMBS JJ
Goth, industrial, synth-pop and wonderfully obscure 80's men in hosiery... that kind of thing.
---
3-6 AM
GOD ONLY KNOWS Mystery DJ
A new DJ every day... a new DJ every week... check here to find the up-and-coming DJ's of tomorrow doing the early slots of today!
---
WEDNESDAY... WEDNESDAY... Wednesday...
---
Wednesday 6-9 AM
GOING NUTS WITH GRANDMA NUT! (Who the hell do you think?!) Listen every week to your favorite crazy Grandma - Grandma Nut (no two shows alike, I promise!)
---
Wednesday 9 AM-Noon
RAW-ESSENTIALS Clutch-Cargo
Playin ya mom's secret hip-hop stash.
---
Wednesday Noon-3 PM
THE DEEP END Zodiac Iller & P.I.B.
It's like when you take acid, right before it really kicks in. The anticipation, "Oh shit, I might not be coming back!" But then with a change of atmosphere, you're able to gather your marbles. Wait, wait!... it's more like the first time you smoked P.C.P....
---
Wednesday 3-6 PM
FLOTSAM AND JETSAM Jeckyl or Heckyl
Smell the golden gloves equipped with painful leather and transcendent opium lead in fire, on fire and f---d up inside a dead guy minstrel longing. A death cookie panelist sucking hot feet and fudge. Cruise ship of the dead, wrecked on the rocks of a whiskey sea. A blue idea dipped in boiling oil.
---
Wednesday 6-9 PM
NUTS & BOLTS Jimmy
Fundamental music from the past to the present. Styles from punk to bluegrass, surf to funk, blues to garage, and on and on...
---
Wednesday 9-10 PM

WEDNESDAY NIGHT LIVE

Live Bands
KZSU proudly continues its tradition of supporting and showcasing the best of the Bay Area's talent through our long running live music program WNL. Tune in each Wednesday to hear an eclectic array of sounds, including punk, pop, jazz, rock, surf, folk, world and noise.
---
Wednesday 10 PM-Midnight
HICKS WITH TASTE Chanel or Secret Agent
On Secret Agent weeks, you will find lots of heavy, angry music with hip-hop, world, industrial and other stuff mixed in.
On Chanel weeks, you will get a mixture of gabber, grind, industrial, and other unsettling rhythmic things.
---
Midnight-3 AM
FOURTH DIMENTION Brendan
I enjoy playing lots of local punk music mixed with classic blues cuts from the masters and from the lesser-known guitar legends. Also plenty of great old and new surf music mixed with great NY style and punk. Ska and jazz.
---
3-6 AM
GALACTIC GUMBO Daniel
An exploration of the genre of pure music. Pure to the core. Hardcore. Be it pure, soul, or pure silliness. No limitations.
---
THURSDAY... THURSDAY... Thursday...
---
Thursday 6-9 AM
SPIRITUAL TECHNOLOGY Free Flipper
Stop. Look. Listen. Feel this life, feel your life. Music for living, a soundtrack.
---
Thursday 9 AM-Noon
BAYOU BOOGIE DANCE PARTY Leonard
This is high energy, high steppin' Southwest Louisiana music to set you moving. Zydeco, Cajun, swamp-pop and much more.
---
Thursday Noon-3 PM
SUN IN LIBRA, MOON IN PISCES Dr. D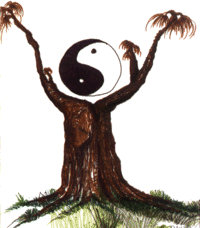 Expand positive musical consciousness with references of international flavor. If it is heartening, inspiring, and/or illuminating, you'll hear it here.
---
Thursday 3-6 PM
THE ROCK SHOW Jeannie
Indie rock, experimental, lounge, noise, jazz, pop, and more - served buffet style. Plus, a featured band and the 4 o'clock break.
---
Thursday 6-9 PM
HAMMER, ANVIL, & STIRRUP Klee
The Bay Area's most venerable creative improvised music show. Other stuff, too.
---
Thursday 9 PM-Midnight
I LIKE IT HERE Garnet
Slow teases and rapid frenzies alternating in a soothing tension-release pattern.
---
Midnight-3 AM
THE LIVING DREAD Matt
Dedicated to keeping the reggae revolution alive, playing all kinds of reggae from roots to rock, dancehall to dub and whatever else I feel
like playing. You know you want to listen! Go vegan.
---
3-6 AM
HAWAIIAN EXPRESS Mr. Hawaii
A show devoted to your favorite unknowns from the world of punk. Hawaiian bands and other small-time artists brought to you direct by MR. HAWAII himself. This is as close as you'll get to the scene without a professional travel agent!
---
FRIDAY... FRIDAY... Friday...
---
Friday 6-9 AM
TRADITIONS Sean
The emphasis is on bluegrass, with elements of old-time, contemporary folk, Celtic and maybe a bit of rock and roll, exploring the connections between these musical traditions.
---
Friday 9-11 AM
MY BACK PAGES Petros
A mix of poetry and folk music from around the world. Ethnic groups of the Bay are invited to recite poetry from their heritage and introduce traditional music. When in desperation, music from soundtracks, spoken word, jazz, and all other sides of the ephemeral.
---
Friday 11 AM-Noon
ECHOES OF GREECE Petros
Contemporary and traditional Greek music. Music from Greek composers of the Diaspora (Xenakis, Tsilikas, Skalkotas, etc). News, local announcements and news from Greece.
---
Noon-3 PM

THE TRAVEL BAR

Dr. Sauce
Vomit-flecked oldies from the bottom of a glass.
---
Friday 3-6 PM
MIASMA Keach
Punk, hardcore, indie, Brit-pop, industrial, post-rock, poetry, and more.
---
Friday 6-6:30 PM
THE SPORTS ZOO David
The Zoo Sports staff takes its weekly look at the worlds of Stanford and PAC-10.
---
Friday 6:30-9 PM
STANFORD WOMEN'S VOLLEYBALL
Catch the Cardinal women as they push to the final four.
---
Friday 9 PM-Midnight
URBAN INNER CITY EXPERIENCE MSmooth
Hip hop ruff n rugged on the real.
---
Midnight-3 AM
SLUGBAITING Elliott
Enjoy the soothing sounds of the finest in grind, death, hardcore, black metal, thrash, punk, crust and other accident-inducing sounds. And if you're lucky, I'll play your favorite Poison song.
---
3-6 AM
REGGAE SCENE Bald Head Dread
The reggae scene has a variety of roots, dancehall, dub, ska, African styles mashed together in a positive call: people to unity.
---
SATURDAY... SATURDAY... Saturday...
---
Saturday 6-9 AM
MID-MORNING JUXTAPOSITIONING Adam
Punk and funk and ska thrown into a fat box with a whole bunch of crap from the children's and humor sections... as long as it's underground and you didn't see it coming. Expect tons of guests, strong opinions, and lots of free tickets... but don't hold your breath.
---
Saturday 9 AM-Noon

BLUES WITH A FEELING

The Byrd of Paradise
Classic, vintage, low down, back in the alley, back behind my house, gut bucket, heart wrenching, howlin' at the moon, "The shit you thought you'd never hear" - Blues Show -
---
Saturday Noon-3 PM
FREAKSHOW Theresa the Freakboy
or STANFORD FOOTBALL
Freakshow: Consider yourself at home
Football: It's a tough sport, but somebody's gotta whoop Cal's Oskybutt.
---
Saturday 3-6 PM

THE BLUES AND THE GREEN

Coles
A whole mess of blues with the likes of Muddy, Sonny Boy, Freddie, and Coco, with a side of Irish with Moloney, Arcady, Undertones, and always the Weekly World News.
---
Saturday 6-9 PM
STANFORD WOMEN'S VOLLEYBALL
Catch the Cardinal women as they push to the final four.
---
Saturday 9 PM-Midnight
KNOW RHYTHM Raggedy Andy &
Simon Barsinister
Rougher than a booty-buffer in the penitentiary.
---
Midnight-3 AM

ON THE WAR PATH

Big
Chief
Get your punk ass on the warpath. As always, my famous weekly chicken song.
---
3-6 AM
ON THE PSYCHO PATH Big Chief II
Dare to trip onto the psycho path and let me control your unsanity.
---
SUNDAY... SUNDAY... Sunday...
---
Sunday 6-9 AM
LIFT JESUS HIGHER The Watchman
Two and a half hours of Christian music of all the major musical genres and a half-hour sermon segment called "Time in the Word," designed to give folks a look see into what the Bible says about living life to the fullest.
---
Sunday 9-11AM
UNDERBRUSH Radon
Beats, breakz, and buzz.
---
Sunday 11AM-Noon
NO ALTERNATIVE Dave
Music from bands and artists you've heard on commercial radio, done KZSU-style.
---
Sunday Noon-3 PM
THE HEAVY HEAVY MONSTER SOUND Steve
Do the Ska, the Rocksteady, and the Reggay!
Music like dirt. The thunderin', stormin', sound of soul!
---
Sunday 3-6 PM
KITTENZILLA GOES CAT-NIP A-GO-GO Johnny Mags & Josh
Punk, garage, trash, surf, lo-fi shit rock + chick rock. Plus live bands, interviews, crank phone calls, and other stuff.
---
Sunday 6-9 PM
THE DRUM Kevvy Kev
Hip-hop exhalations from the grimiest sections of the bomb shelter at KZSU. Beats & rhymes to knot up the hardest heads.
---
Sunday 9 PM-Midnight
NUBIAN ROOTS Cat
Nubian roots freely explores so-called jazz from the roots to the present.
---
Midnight-3 AM

DEATH WARMED OVER

Christine Death
Ahh! Steaming piles of the ripest death metal and grindcore with chunks of manic noise, melodic doom, and grueling sludge.
---
Ten Signs That You're A Cheese-Eating Metalhead
1. You wear bullets anywhere on your body
2. You rush to mail off your registration for the Foundations Forum
3. Any part of your head is feathered
4. Your library consists of Metal Edge back issues
5. You own a Nitro album
6. You use words like "rocks," "rips," or "rages"
7. You wear your jeans cutting-off-the-circulation tight
8. You pray for a W.A.S.P. reunion tour
9. You remember fondly Saturday nights with Adam Curry (you know what I'm talking about, don't you?)
10. SPANDEX !!! ... need I say more

If this is you, jump into the 90's and listen to KZSU for brutal death metal, grindcore, noise, punk, hardcore, and other forms of racket.
(Christine Death)