Lisa: So, tell me how it all began.
Coles: (Chuckles) I went to the org meeting and got myself a show.
L: Did you start off in the middle of the country?
C: Yes, at age eight. I heard an announcer for the St. Louis International Raceway with a booming bass voice.
L: And what did that do to you?
C: It made me want to be just like that guy. That guy had a cool voice. The coolest thing about it was that I couldn't see him.
L: So that's what did it.
C: Yes, plus the fact that since I figured I couldn't afford a monster truck or tractor, I could be the voice.
L: What does St. Louis mean to you? There's an arch, right? Did you live near the arch?
C: It was far away, but I could see it because it's the tallest free standing monument in that part of the country.
L: What types of music did you like?
C: '60s and '70s soul music, on AM radio. That's all I could get. I was listening to the funky soul singers.
L: Did you try to dance to their music?
C: Yes. At my eighth grade graduation party I was the first guy to get up and dance.
L: So you liked soul music. Did you like "Shaft"?
C: Yes, very much so. Actually, that used to play every time Lou Brock came to bat, back when he was with the St. Louis Cardinals. It was his theme song.
L: Were you a latchkey kid?
C: No, I was the youngest of six. My mom was a full-time housewife. I had a great childhood. I used to come home from school and play street hockey and wiffle ball.
L: Did you live in St. Louis for your whole childhood?
C: When I was fourteen, my parents moved to a tiny town called Gerald in the depths of mid-Missouri. I didn't really fit in. I was shy.
L: Did you hit those difficult adolescent years?
C: Every year for me is awkward. I was voted the craziest person in my high school. In a small town, you either listen to classic rock or country.
L: Let's move into a different area. You weren't into classic rock, were you?
C: I still like to listen to oldies like the Rolling Stones occasionally, but you grow out of those things eventually.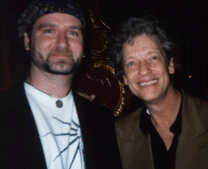 Coles with Blues Legend John Hammond

L: What would you say your favorite 80s song was?

C: "Candy" by Bow Wow Wow. Seriously, music that changed my life, like the Clash's "London Calling," the Sex Pistols, and reggae, which I heard on a college station.

L: I've heard that music you hear in high school influences what you'll listen to for the rest of your life.

C: Hearing that music made me want to get into it more. I got interested in artists like Bob Marley and Peter Tosh. Interestingly enough, at 11:00 on that college station a show named "Pipeline" came on. That's where I got the name of my very first show from, because I never heard that kind of music before (punk and surf).

L: That's very cool. When did you first start at KZSU?

C: January 1995.

L: So you came right in and got a show right away?

C: At 3AM on a Tuesday morning. I had a demo tape already. I was lucky to get a show. I told Clay, the PD at the time, that I was interested in getting a show. He told me I could start on Tuesday. I was pretty scared.

Click here to go up to top of next column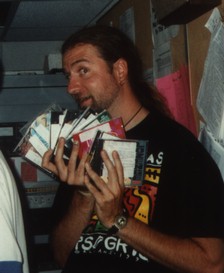 L: So you've had a slot continuously ever since you started?
C: Yes. "Pipeline" for a year, and the "Blues and the Green" for the last eight months.
L: Could you explain the "Blues and the Green?"
C: Blues is blues. Green is Irish music. The Green is on the last Saturday of every month.
L: Will you continue the "Blues and the Green?"
C: Yes. I like the "Blues and the Green." I wish we had more Green (Irish) so I could do more.
L: But your job is conducive to acquiring music.
C: Yeah, not conducive for getting food.
L: But most music/creative-type jobs don't ...
C: ... pay ...
L: Yes; we don't appreciate that sort of thing as much as we should. So tell me what your future holds.
C: (Laughs) Let me look at my crystal ball ... I would like to do a radio show for the rest of my life. Either daily or weekly, it doesn't matter.
L: Would you be happy exploring different types of music?
C: Yes. I played different types of music on "Pipeline." However, I'd like to stick with blues for a while, if possible.
L: I have to say that it's been a pleasure doing the Concert Calendar with you. What's your favorite cartoon?
C: Daffy Duck always comes to mind. Also George of the Jungle, Super Chicken, and old Fantastic Four. I thought TV was much funnier in the '60s and early '70s. So, what do you see in your future?
L: (Chuckles) This is my dream come true.
C: Ever since I was little, I wanted to do radio. It's my dream come true, also.
L: Do you have nightmares?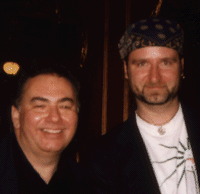 Coles with Blues Guitarist Duke Robillard

C: Yes, (laughs), usually from 6:30-8:30 on Mondays ... when our meetings are.

L: Do you have a favorite trait of your own? What would they say back in high school about you now?

C: "Boy, you've got long hair!" At my high school reunion, they said I was the most changed person.

L: What's your biggest pet peeve?

C: I dunno ... I hate people being slobs. I'm a slob at home, but when I come here, I want things to look nice.

L: Maybe we can say that's pride in what you do and where you go. I think you are a very easy going person. You've tried and succeeded, I'd say.