I was so frightened. I was going to the winter quarter organizational meeting of the Stanford radio station. There would be all these "cool" people there, my little 14-year-old self thought. I took a deep breath and blew my sinus-infected nose as my dad rounded the curve of the street and pulled up near Tresidder (the Stanford student union, where the meeting was held).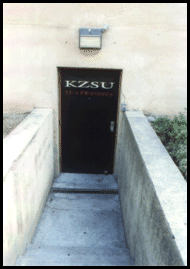 He released me and my friend, Matt, into the rainy 30 degree night. "Don't call before 9:15 since we'll be out," he reminded me. Then he slammed the door and peeled off, sending a stream of muddy water in our direction.
Matt and I found the correct room at Tresidder and entered it giddily. We sat in the very back and stared at all the other people. They didn't look quite as strange as I'd imagined. In fact, the people who got up to speak about the wonders of KZSU looked downright normal. After fifteen minutes of talk, the new recruits were released to visit tables dealing with their prospective departments of choice.
Matt and I made a beeline for the music table, where we were encouraged to file our applications to join the "DJ Training Class". We did so apprehensively. I mean, we were never gonna get in. Beside me, this guy chatted with one of the people from the radio station. They talked about music for five minutes. I don't think they mentioned a single band that I had ever heard of. Hmmm. After we turned in the applications, we looked around. It seemed like the party was breaking up.
So Matt and I, armed with an hour and 45 minutes of free time and no where to go, decided to find the secret spot where KZSU actually broadcasts from. Well, it wasn't that secret, we knew that KZSU broadcasts from the basement of Memorial Auditorium. I mean, all we had to do was find Memorial Auditorium. And wasn't Mem Aud that church place? It wasn't that church place. Would a radio station be in the basement of a church? I doubt it. But Matt and I were too dumb to figure that out until after we had walked for ten minutes through the frigid, wet night.
Click here to go up to top of next column


We decided to ask directions of the next passerby. The next passerby... Hmm. Not too many people seemed to be out that night. Finally, we found a woman who we asked where Memorial Auditorium was. She answered that it was really near Hoover Tower. Oh! I suddenly had a flash of memory. Mem Aud was that yellow building across the street from Hoover Tower! Woo-hoo! KZSU here we come!

Our plan of attack was to locate Hoover Tower looming tall in the sky then move closer and closer to it until we got there. Unfortunately, it was extremely cloudy and foggy on this fine night. So, unable to see Hoover Tower in the sky, we were forced to rely on my memory. It took us fifteen minutes to walk there. Later I found out it was a five minute walk.

Finally having located Hoover Tower, we stood in front of it triumphantly. Until we realized that we had no idea how to get to the basement...circling the base of the building seemed like a good idea. We walked around it. No door. So we went inside Mem Aud, which seemed to be jumping with drama students. After timidly asking, like, six people who had no idea what KZSU even was, someone told us to go outside. We decided that we might have missed the door. And lo and behold, we did!

I stared at the thick door emblazoned with the letters KZSU. This door was pretty damn heavy. I tried to open it. It was locked. Time to resort to the doorbell. I didn't want to ring the doorbell, that would require calling attention to ourselves. But we had no choice. I pressed the red button which clearly said above it "doorbell. press once. wait at least 1 minute before repeating." No one came to the door. Had it been a minute? I looked at Matt. He nodded, I reached out to press it again and the door flew open in my face. Hmm. Well. I grabbed the door handle before the door shut. We could now enter.

The hallway seemed nice enough. It was devoid of people, filled instead with recycling bins, bulletin boards, a soda machine, etc. Another mysterious hallway ran perpendicular to us. If we followed it, we would surely find the rest of the radio station. X-Ray-Spex came on the speakers that seemed to blast KZSU from every crack in the wall. It was all so nice and neat. Except for the fact that the station reeked of elementary-school-on-a-rainy-day-smell. Yummy. Oh yeah, and that huge dead rat lying in the middle of the hallway didn't help matters very much.

So, Matt and I decided to venture into the rest of the abyss called KZSU...Carefully stepping over the rat, we rounded the corner and stared down another hallway, this one lined with various chairs and tables. With various "cool" people sitting in these chairs and tables staring their various stares at us...We ducked back around the corner and gave each other frightened looks. We ran in fright into the dark night. So, thus ended my first experience with KZSU.

(Debra)

_________

But not her last. You can hear Debra every Tuesday, from 3-6pm on the What's Happening to My Body Show.