In addition, our dedicated staffers have brought you all sorts of interesting stuff to read so that you'll have something to look at while you're listening to our shows. Thanks to everyone who helped with or contributed to this Guide.

Editor: Lizzie Boredom
Layout and Design: Stefan, Lizzie Boredom
Mailing and Distribution: Mike Howes
Printing Consultant: Mary Miller
Moral Support: Secret Agent
Art/Photo Contributions: bdp, Nate, Lizzie B., Gino
Written Contributions: Kara Whacked, Justin, Nate, Sean, Lizzie B., Ofer, Chanel, Coles, Plugh, Huckleberry, Gabe, Mistress of Radio, Romain, Leonard, Scotty M
Cover Art: Michele Widener, grade 4, from Sheldon, Mo
Grid Art: Stefan
Quark -> html: Stefan Lisowski (best viewed with Netscape 2.0, if you're on a 15&quot monitor make your window as wide as you can.)

Advertising in the Program Guide is an excellent way to reach over 3000 readers throughout the Bay Area. Contact the Program Guide Editor at (415) 725-4868 ext.1 for rate information.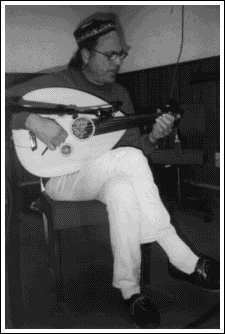 Latif Bolat performs on Wednesday Night Live