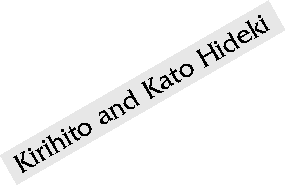 Kirihito and Kato Hideki live at Bottom Of The Hill, March 7
Kirihito, consisting of Ken Takehisha on guitar, vocals, and foot-Casio and Shunsuke Hayakawa on drums, followed by Kato Hideki playing solo bass created an impressive Japanese progressive rock 1-2 combo this evening.
Fresh off an appearance on the I'm Not Lisa Show on KZSU, Kirihito played their hyperfrenetic brand of prog punk. Takehisha's guitar lines slowly and deliberately repeat arpeggiated themes interspersed with bursts of massive power chords and blurry runs. Takehisha also sings and, so as not to waste any limbs, teases discordant noises from a Casio keyboard with his foot. Hayakawa puts his entire body into his playing, which is powerful but with elements of nuanced swing. Their songs are complicated, with starts, stops, and sideways lurches. Both members are sophisticated and well-practiced enough to play flawlessly and in perfect synch, but at the same time, they exude such raw energy that audience members alternately (and sometimes simultaneously) gape, smile, and twitch in time to the incredible sounds of Kirihito.
After Kirihito's display, it seemed as if the mild-mannered Kato Hideki, with only a bass guitar and some effects, would be just a bit too understated. Not so. Right off, Hideki attacked his bass with a battered beer can, creating a thunderous metal-on-metal din, which he proceeded to sample and loop, becoming his own accompanist/percussionist for more subtle explorations into
the realm of noise. Some compositions taken from his collaboration with Ikue Mori and Fred Frith ("Death Ambient" on Tzadik) were less aggressive but much darker, with Hideki using a bow and electronic delays to create extended drones at100+ organ-vibrating decibels.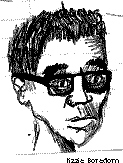 Kirihito DaViDeBo"
God Mountain Records.
301-5-15-9 Minami-Aoyama
Tokyo 107
Japan

Hideki/Frith/Mori Death Ambient
Tzadik Records
61 East 8th St #126
New York, NY 10003

(Gabe)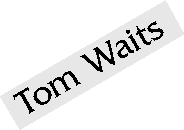 Tom Waits at the Paramount Theater, February 4, 1996
It's got to be hella something to get me out of the house on a cold, rainy Sunday night to drive all the way up to Oakland. And it was. Tom Waits, who hasn't been onstage for several years, was playing a sort of benefit concert for a friend of his who was fighting some sort of drug charge for selling LSD. Tickets were 50 bucks a pop (the scalpers were getting upwards of 300 bucks), but damn! It was worth it! Sitting there in the fourth row, I felt pretty lucky.
Playing to a packed house for almost three hours, Waits rollicked through about thirty songs. He sang, growled, shook and bellowed through some great classics of his, before we all headed back out into the rain. With Waits looking a bit older and grayer than the last time he played on stage, it gave the show an intimate feel.
"I Don't Wanna Grow Up" opened the show, with Waits playing some piece-of-shit looking guitar.
Other highlights included a snarling, boisterous, banging, clanging "16 Shells from a 30 Ought Six," a hilarious version of "Cemetery Polka," as well as one of my more recent favorites "Jesus Gonna Be Here" -- in which he tries to sing almost falsetto, and sounds so shitty it's great. Besides Waits playing an old pump organ and piano they wheeled out for him, the percussion guy had lots of crap to beat and bang on, most of which looked like it came out of Fred Sanford's front yard.
The one thing that sucked was the crowd. They acted like it was some sort of Bon Jovi kinda show, yelling out requests. Some stupid woman kept yelling for him to do a funny dance, and some moron in the 5th row yelled out for him to do a song for his dead father. Man, shut up and sit down and enjoy a talent that you very rarely get to see. Growlin, bellowin, and lookin like shit, Waits still has it.
(Coles)