M O N D A Y
6AM Mixed Up Class
Classical music, as given to us by mind control experts from nefarious multinational conglomerations. Even obscure local muscians are no longer safe. -Romain
9AM Hot Coffee and a Full Tank of Gas
Take a road trip with Kara Whacked every Monday morning from 9am to noon. Cruise the highways and biways of folk, acoustic, country, indie and spoken word, with ocassional live performances and interviews. -Kara Whacked
NOON Miasma
All forms of pollution: melancholy and malicious, spooky and sublime. Indie rock, dream pop, artcore, goth , trash, punk, poems, and other dark airs to clog your soul. - Keach
3PM The Travel Bar
Vomit flecked "oldies" from the frat-rock, beat, surfnick era of drunken stooges. -Dr.Sauce, PhD.
6:15 Inside Stanford
Features campus related news and feature stories. Associated press reports, and special arts and personality segments.
5:45PM In Your Neighborhood
(every other Monday)
A forum featuring local community interest groups, focusing on interests of the community at large.
5:45PM Stupid Teenagers
(every other Monday)
30 minutes of stern reality as seen by these six teens. Listen as they attck the subversive liberals that are assaulting the country.
7PM Palo Alto City Council
9PM The Xyzzy Show
You are in a brick building, a well house for a large spring. You hear melodies and hooks that are out of this world. You hear magic words. It's pop music and stuff.
- DJ Plugh
MIDNIGHT The Dopestyle Peyote Turquoise and Ambrosia Provisional
This is where the conflict between Dopestyle and the sly & slick guises of Hellmonic Demons lies - in which the battleground of predestined suffering and painlust take place on the Dopestyle Peyote Turquoise and Ambrosia Provisional. -DJ Dopestyle
T U E S D A Y
6AM The Happy Hour
Shufflin' toothe shanty-town sounds of ska - from the Skatalites to the Scofflaws, the Maytals to Hepcat, then up the sound system and start skankin' - Dave
9AM Crossing Borders
Crossing Borders traverses musical styles. Middle-Eastern minor chords lead through poppy major chords to bebop broken chords. Excursions to Kenya, Finland, Tennessee, and Oakland. -Ofer
NOON Wake Up And Live!
Jamaican music of all styles and eras: reggae, roots, rock steady, ska, dance hall, dub. Listener requests, ticket giveaways. No two shows alike. Check it! -Russell
3PM Kill Kitty City
Free jazz, art rock, contemporary classical, saxophones, prog rock, psychedelia, indie rock, cellos, world music, garage, clarinets, opera, improvisation, toy pianos, punk, noise, subversive politics, skronk, poetry, and french stuff. -Kitty
6PM Doc Talk
A weekly half-hour health and medicine talk show, bringing you the latest news from the medical world and interviews with the top minds and leaders that only Stanford can provide.
6:30PM Extreme Conditions Demand Extreme Responses
Sounds and music put together into an easily digested form. Nothing is untouchable. Grind to piano, psychadelic to music concrete, industrial to folk. -Mike
9PM Asylum
A sonic refuge for a variety of music - traditional and contemporary, all continents, serveral centuries, many species. - Mary
MIDNIGHT The Live and Direct Show
Mix show dedicated to hip-hop. -Jake
3AM Second Central Moment
A mix of R&B, hip-hop, reggae, house, blues, jazz, and other gems. Some words and thoughts on the relationships and origins of these musics. - Greg
W E D N E S D A Y
6AM Globeslam
Transnational music and noise from underdeveloped parts of Latin America, Africa, and the Mission District in San Francisco (bhangra, dancehall, rock en español, IDM, jungle, Brazilian, Afro-Cuban, Afropop) - Robin
9AM Fuel
Chomsky, Howard Zinn and other spoken word, Bay Area activist events listings, and a bit of grind and skronk to keep you entertained. - Stefan
NOON Know Rhythm
The non-stop hip-hop drop. -Raggedy Andy
3PM I'm Not Lisa Show
Live bands (bandage) and a myriad of musical styles will train you to enjoy the pleasures of submitting to the Mistress of Radio. The "I'm Not Lisa show": her dungeon, your ears. -Mistress of Radio
6PM Detention
Detention: all shades of punk with a focus on women, riot grrrl, hardcore, spastic, garage, pop-punk, old-school, you get the idear. -Queenie
9PM Wednesday Night Live
10PM Take Out The Trash!
Unclean but not disposable surf, garage, punk, and whatever. Said the Great Prophet Oscar the Grouch, "I love trash!"
Book of Boredom 2:23
-Lizzie Boredom
MIDNIGHT Death Warmed Over
Death Warmed Over - a malignant growth oozing over with foul death metal, grindcore, sludge, manic noise and sloooow doom - crank it as your cells mutate. -Christine Death
3AM A Steady Groove
Reminisce the 60's and 70's soul sound with Stax, Atlantic, and Hi artists and discover their impact on today's artists. Soul is alive and blue as ever! - Gene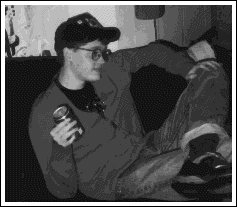 T H U R S D A Y
6AM Electric Kool-Aid Radio
Psychetribal, acoustadisco, bluesadelic funkiness -Huckleberry
9AM Rhythm `n' Roots
Crossing, cutting, melting, merging global cultural beats. Feeling the spirit of Africa from world musics. Jazz, soul, reggae, fusion, acid jazz, and much more. - Karen
NOON Double Date Delayed #1
Call me a useless romantic and I'll probably agree. I'll make you feel like Morrissey never could. -Chi-Hui
3PM OOdie Doodie
An unholy melange of raucous and provacative ribaldry. Including, but not limited to, hillbilly punk stomps, greasy incompetence, and political mindbenders. Listen, or be stagnant. -Sean
6PM Evolution + Chaos
An eclectic show featuring punk rock, indie rock, ska, instrumental surf, garage rock and trash, psychedelic, lo-fi, girl bands, gothic, grindcore, and plenty of new material. -Jimmy
9PM Digitronic Chemical Backlash
Potato balls in pea soup, the unchallenged myth of schlecktron invaders, ba-ba-dum, monopoly control of anarchy, crush mania. - Big Lear
MIDNIGHT Foam-core
Mostly punk and hardcore - distorted, political, screaming, or otherwise abrasive. Serious and cynical, loud and sometimes quiet, old and new. Add emo, straightedge, and grindcore and you'l' have music to wake up your houseplants. - Fourfa
3AM Revolution of Energy and Music
An ensemble of punk, ska, and other catchy tunes to energize your day and wire your mind! - Emily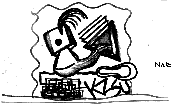 F R I D A Y
6AM Traditions
Traditional music of the U.S., Ireland, and Scotland, with an emphasis on bluegrass and string band music of the U.S. - Sean B.
9AM The Deep End
Heavy riffs, heavy beats, heavy grooves, and trivial conversation. - Zodiac Iller
NOON From The Sweets Trolley
Top off your year of British Tea Time with some sweets. You've had your tea and a few sanwiches. Now sit back and relax. -Yasmin
3PM Live Evil
Jazz and other improvised musics. - Eva
6PM That Pop Thing
Join Scotty M for a tantalizing and delicious mess that will drag you kicking and screaming through the sugar-coated bowels of modern music. - Scotty M
9PM Urban Inner City Experience
All the treats hip hop has to offer. Freestyles, giveaways and of course the rugged underground tracks. Keep vinyl alive...fuck CDs. -MSmooth
MIDNIGHT The Ska's The Limit
A mesh of styles and music covering Punk, Garage, Bluegrass, Ska, Surf and Funk. Music with meaning. -Tom
S A T U R D A Y
6AM Bayou Boogie Dance Party
High energy, high steppin' South West Lousiana music to start your day and get you moving with some Zydeco Cajun, swamp pop and much more. -Leonard
9AM Blues with a Feeling
Rythms and Blues from the 40s to the 90s. Not only exploring the entire genre, but also weekly specials, including live interviews with blues musicians. -Byrd
NOON Return of Rapid Suburbia
Join David Ogilvy for a therapeutic blend of folk, rock, jazz, and live forays into avant-garde mixes of multiple sources. - David
3PM Kung Pao!
Indie-rock clatter and splurge, sugar-rush pop toonage, occasional splatterings of art-damaged noise and beat jazz. Tune in and learn to hate the sound of guitars. - Nick
6PM The Blues and the Green
Each month you'll hear 3 weeks of Blues and 1 week of Irish for a diverse mix rarely heard in the Bay Area. From Muddy Waters to Tommy Makem, Leadbelly to the Dubliners, Bessie Smith to Mary Black and still the weekly world news. -Coles
9PM An Epiphany of Sound
With an emphasis on techno, industrial noise, and samples, An Epiphany of Sound will keep you entertained with live mixes of the latest music and examples of how sound is assembles to create music. Become enlightened. -J.C. alternating with Monkeywrench
MIDNIGHT On the War Path
When you join The Warpath you can expect an aggressive punk show with children's songs, comedy bits, and the only show known with a weekly chicken song! -Big Chief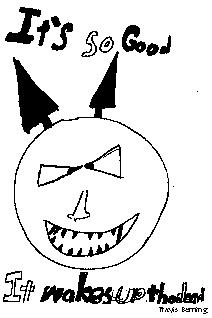 S U N D A Y
6AM Lift Jesus Higher
A bible study set to music, bringing the sounds of heaven to your ears and the love of God to your heart in reggae, rap, R&B, and jazz. -The Watchman
9AM Sunny Side Up
Wake up Sunday morning at 9:00 to Sunny Side Up. Three hours of Bluegrass, folk and alternative country to put your Sunday mornings in perspective. -Bruce
NOON Scratch Jesus Wheels
My mother wonders why I like such strange music, but she doesn't listen to my show. -Nate
3PM Radio Damage
Punk, garage, trash - plus live bands and interviews. -Lovechild
6PM The Drum
Hip-hop in all phases, to leave even the hard heads knotted up all week. -Kevvy Kev
9PM Nubian Roots
If you're desperately seeking an outlet from the elevator wasteland here's a vibe to try. Coltrane would be very happy. -Cat
MIDNIGHT Manipulation and Music
Real rough rugged rhythmic rap antics, mental mathematics mixed masterfully controlling the mike like Fidel Castro, a security guard, or an elementary schoolyard street crossing assistant. -The Manipulator
3AM Going Nuts
A beautiful show that possesses the power to destroy all minds young and old. It's a real gem! - Grandma Nut
NEWS UPDATES
News Updates will be at 8:50 AM Monday through Friday, and 6PM, Tuesday through Friday.