The Brick Shithouse 12"
Industrial Strength Records
101 Bay 23rd Street
Brooklyn, NY 11214
Since gabber is impossible to find in the Bay Area, it's a momentous occasion for me whenever any comes into the station (and this one was a delightfully unexpected surprise). Since most of you reading this are West Coasters, you're probably saying "What the ... is gabber?" Gabber is a style of music found mostly on the East Coast and parts of Europe (primarily Holland) typified by incredibly fast, extremely bass-heavy beats. Imagine a Miami bass record sped up 15 or 20 times. And in a club with the speakers blaring it becomes a whole body experience....but now I'm fantasizing.
An extra bonus for this 12" is that there are a variety of other sounds on it as well (gabber records can be rather single-minded). The A-side incorporates some hip-hop beats, Chuck D samples, and ambient voices amidst the gabber beats, while the B-side is more straight ahead with lots of beats filled in with various noises and sounds. If this intrigues you but sounds just a little too risky to spend your hard-earned bucks on just yet, just call up your favorite KZSU electronic music show and request it. No promises, but some of them love an excuse to play more gabber. -chanel

Blood Vampirism & Sadism
KRON-H/Osmose
B.P. 57, 62990
Beaurainville, France

It's certainly a good thing to see the Death Metal folks expand their musical horizons. This project, featuring members of Greece's Necromantia & Finland's Impaled Nazerene, brings forth some pretty wicked "satanic techno". "IIsa-She Wolf of the SS" begins with an impressive In the Nursery/Current 93 type of dirge with very Teutonic/Nordic sounding vocals plus lots of spooky, ethereal sounds throughout. Other tracks are like a more evil Skinny Puppy, while another falls into the mists of gothic territory & jumps up to a electro-death metal psycho blast. This album is guaranteed to scare the shit out of kids! (or your parents for that matter!) -Justin

Hi-Fi Junk Note
Rastascan Records
PO Box 3073
San Leandro, CA 94578-3073

The Trio's hyper-eclectic music expands until it shatters, then new forms rise from the splinters. Splatter draws on and with such far-flung influences as ambient industrial, free improv, dub, funk, jazz, rock, and 20th-classical. With big-eared, double-necked guitar hero Myles Boisen on knob duty, the mix is friendly and free, practically exploding with funny flowers and sparklers. The resulting sound often calls to mind the more explicitly sample-based offerings of Carl Stone and Bob Ostertag, although instrumental interplay remains the focus. The Trio's gleeful disdain for genre boundaries tempts me to wax philosophical about postmodernism and unraveling cultural constructs, but who needs that bullshit. This is the compelling question: Why listen to a groove, riff, or style for longer than you'd stick with a channel on TV? Music should require attention, but it shouldn't require an attention span. -Nate

Beware the Whim Reaper
Staalplaat
PO Box 11453
10016L Amsterdam

ow ow ow ow OWWW! No stop it, please. I'm not kidding: sometimes the cheese on this album achieves a painful intensity. For example, I know I've heard the second track before: a 70's detective show was on TV and the carpet was swarming. Nothing could blot out that scene. And the voices. owww owww OWW! The hokiest radio heyday hepcat offers stereo tips on track four, becoming almost messianic as the strings swell behind him. People Like Us have a keen nose for camp, and they turn up some absurdly tasty trifles. Not the music your mother warned you about, this is probably worse. -Nate

The Whipped Cream Mixes 7"
Eerie Materials
P.O. Box 420816
San Francisco, CA 94142
This record is brilliant; it's already #1 on my top ten for 1996 (bands and artists, I dare you to make a record to unseat this one before the end of the year). And not only is it an amazing record but it proves a philosophical premise as well--that something can be greater than the sum of its parts.
Now, Public Enemy is OK (in general I'm not a huge hip-hop fan but I own a couple of records) and Herb Alpert definitely never did anything for me, but on this record Mark Gunderson (the ECC brainchild) takes Chuck D's rap (from "Rebel Without a Pause" on the A-side and "By the Time I Get to Arizona" on the B-side) and Herb Alpert's music (I assume from Whipped Cream and Other Delights--I'm too young to know), and fuses them as if Chuck and Herb had been hanging out together for years, creating something so unexpected and smooth that it's addictive (I listen to the B-side 3 or 4 times in a row every morning). Even if you're not a hip-hop fan or an easy listening brass fan, you won't be able to stop from saying wow. -chanel

New Red Archives
P.O. Box, 21050
S.F., CA 9412

This tasty li'l punk collection features four Bay Area bands, all recorded live at S.F.'s famous 17th St. club: The Nukes, Jack Killed Jill, The Swingin' Utters & Social Unrest. The Nukes material is a bit more in a "rock" phase mostly like recent D.O.A. Jack Killed Jill's Gits/Lunachicks hybrid is pretty entertaining, too. The real standouts here, though, are the all out legendary hardcore assaults made by Hayward's Social Unrest. This band simply does not let up for one second. They just keep ripping and tearing shit up, unlike so many so-called punk bands these days. Also, the Utters do a really fun bunch of ugly ol' Brit styled Oi punk that is very catchy. The Utters tunes really capture their live sound & spirit.
-Justin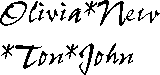 $20 ppd, CD only
Benten Label
#303 LSP 1-39-7 Sangenjaya Setagaya-ku
Tokyo 154 Japan
From the musical Cuisinart that is Japanese progressive/pop/punk in general and Hoppy Kamiyama specifically, comes this 19-track whiplash tour of a vast sonic territory. Heavy bombast gives way to post-disco, pre- New Wave dance pop, to be followed by jagged jazz-punk GodCo-isms, which give way to Eastern European cabaret, fern bar crooning, a cover of The Runaways' "Cherry Bomb", South Indian percussion, progressive boogie, and some babytalk, not necessarily in that order. Vocalist Honey K's abrupt transitions from sweet stylings to shrieks, the group's subversion of some pretty melodic material and musical pack rat tendencies, and use of such non-traditional rock instruments as trombone and tuba give this CD an exotic and challenging but accessible and giddily enjoyable sound somewhere between The Jesus And Mary Chain, Melt-Banana, and klezmer. And oh, there is no "Olivia Newton-John" (erstwhile Australian pop star) element in the mix. -Gabe
Red Resistor
Variant
61 E. 8th St. #223
NY, NY 10003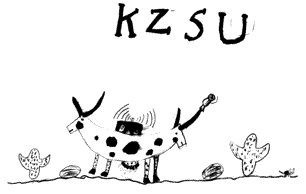 Angela
Pronounced just like it looks, this (semi) legendary cultish, space-rocker brings forth a pretty heavy dose of psychedelia and guitar freak-outs. Lmo allegedly played with Hendrix, but if you believe that then I got a bridge to sell ya in Brooklyn. Some have described him as a rock version of Sun Ra and for the most part that's right. Lots of Lmo's own scientific/mathematical and astronomical theories are prevalent here as well as his huge, dense wall of sound. The opening track is as if (the Crazy World of) Arthur Brown, Flipper, Chrome, the Melvins and Hawkwind all were playing at the same time. The rest is pretty much a lot of weighty asteroid field rockin' psych of epic proportions. -Justin

Pebble
Cargo
4901-906 Morena Blvd
San Diego, CA 92117-3432
This could be called folk-soul, or street-folk. It reminds me of a 90's Marvin Gaye (along with some Bruce Springsteen in there), but more aggressive, with an acoustic guitar and an indie sensibility. And just as Marvin Gaye is liked by almost everyone, I also believe that almost anyone who gives the debut CD by this Southeast San Diego singer-songwriter a listen will find much to like, if not immediately love. This guy is just way too cool, with awesome lyrics, an incredibly affective and beautiful voice, and some arrangements that are perfect and never over the top. It makes me wonder why folk doesn't sound like this more often.
The first track, "Sheep," is at this time my favorite, toe-tappingly catchy with just an acoustic guitar and a gospel back-up. There are a few tracks in here that incorporate what I can only call a 70's funk wah-wah sound. The song "Suburban Girl" is the rockinist track on here. Funky and electric with a heavy beat, it uses just enough 70's sound to be genius. Harris' lyrics are smart, introspective, poetic. He ends the CD with an a cappella number, "Concrete Jungle" where he leaves us with the lines, "policeman says it's time to disperse/ and I wonder what is gonna hurt me worse, chasing rainbows or settlin' for no." -Kara Whacked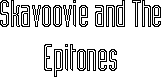 Fat Footin'
Moon SKA NYC
P.O. Box 1412
New York, New York 10276
The Boston music scene has produced some of the biggest ska bands of the last 10 years, like the Allstonians and Bim Skala Bim...and now we can add Skavoovie and The Epitones to that short list! The first full-length album for this east-coast traditional sounding setup is out on Moon SKA NYC, one of the finest ska labels in the country, and the fantastic production on this disc is probably a result of that hook-up. Skavoovie's phat horn section demands you boogie or bail, but the catchy grooves and slinky riffs are rivetingly tight, and I guarantee that the infectious, foot-tapping, hip-swinging tunes (over half of the 15 tracks are originals, and even the covers feel fresh -- especially the "Batman Theme") will keep you bopping until these boys hit the road again. -Huckleberry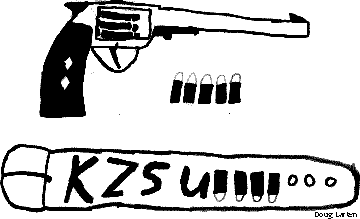 Freek Records
P.O. Box 3585
London, England NW3 3RH

At the bottom of the back to this CD's insert, it reads "No responsibility is taken for the mind-altering qualities of the beauty of this album. Though it is guaranteed that it will improve your life in some way." Well, let's give credit where credit is due -- The Marilyn Decade's self-titled debut is undoubtedly a gift to humankind from transgalactic beings with way gone taste. This album of tasty psychedelic folk mixes acoustic and electric guitars with enough loopy reverb to pacify a room full of speedfreaks, while the mainly instrumental meandering (only one track out of ten has vocals) through the sonic realm of ambient rock explores emotions ranging from tranquility to inutterable anguish. Grooving melodies, repetitive one-note riffs, free-form noodling and neoclassical folk are melded with astonishing beauty. This one's a keeper. -Huckleberry

Understand
$10 ppd, CD only
Delicate Ear
964 Natoma
San Francisco CA 94103
Please excuse the hyperbole, but this album is the new apex of technological means used for organic ends. This album is alive; it breathes, strains, gallops, reposes, and mutates in the most stealthy manner. One second, Burundians and Balinese are chanting rhythmically (with no dissonance between the two either) and the next second there's the distinct funky drummer breakbeat and you, the listener, have no recollection of any discontinuity. The only plausible explanation is that this album stops time. The surface beauty and polish is manifest; the album is a joy to listen to. Yet it's when you look (listen) under the hood that observing the masterful infrastructure of the album makes you really appreciate the seamless surface. What's underneath is a variety of samples from the four corners of the earth, some lovely piano, a touch of frantic jungle, a dash of thrash, and an oscillating lawn sprinkler. Do listen for the sprinkler in the homestretch, but appreciate the entire trip getting there. This is one of my favorite albums of the not-so-new year. -Gabe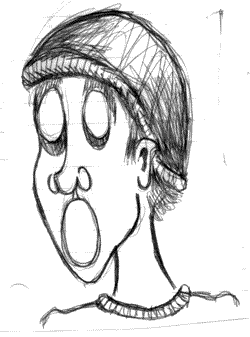 lizzie Boredom

Pin Up Records
Bismarcksr. 23
33615 Bielefeld
Germany (write for free catalog!)
This compilation features three tunes each from six of the greatest surf bands in the world, at least three of which, coincidentally, are from the Bay Area.
Some highlights of the record come from the Trashwomen, down and dirty garage-surf queens from San Francisco whose "Nightmare at the Drag" will surely whip you into a furious frenzy. The Astronauts contribute two of my favorite songs from the album, the cool, Ventures-esque "Space and Shore" and "Penetration." The Car Thieves, the raunchiest, dirtiest surf band around give us the great "You Silly Savage," which is faster than a speeding bullet and over almost before it begins.
The Surf Trio, whose clean, catchy surf style sort of reminds me of Dick Dale, also contributes some scorchers, as do the Apemen and Sir Bald Diddley and his Honourable Big Wigs.
Pin Up records is putting out some boss tunes these days, and this record is a prime example. My advice to you: go buy this record before your friends beat you to it. -lizzie Boredom

Bucky Records
PO Box 72671
Las Vegas, NV 89170

Boba Fett Youth hold a special place in my heart, with their Jedi Knight brand of snotty, raw, tinny punk, all with a great sense of humor and social awareness. This is their first full-length album, and a great follow-up to their amazing debut 7". Lots of righteous, biting and sarcastic shit about being vegetarian and loving Star Wars and punk rawk. Plus, no one can deny the universal truths espoused in the song, "Ska Bus." A treasure. -Sean

Denim On Ice
Echo Records
13 Bramley Road
London W10 65P
Now is the time when British retro glam and pop is on its way back, thanks to groups like Blur, Pulp and Suede. I'm happy to tell you that one band that will wrongfully be lumped into this category, who tops all of these artists is Denim. It's pop that pokes fun at everything from the British pub rock scene in "The Great Pub Rock Revival", to oral sex in "Grandad's False Teeth."
Denim use synthesizers and canned beats to create the perfect early 80s synth sound. The thing is that most of this music has a 70s feel. Only they are so goddamn synthpop it makes my head spin. It's intelligent synth-based music in the same vein as the Magnetic Fields. This is the second release from Denim, who sprang forth from lead singer Lawrence's 1980s Cherry Red/Creation band, Felt. It's a far cry from the lush guitar of Felt, though. With Denim, it all comes down to witty, intellectual, corny but cool pop. The bouncy synth is pulled off with much style, especially on "Shut Up Sidney". Here, Lawrence sings, "Kim Wilde-you what-Spandau-oh get lost-shut up Sidney that's not rock & roll. Sigue Sigue-Sputnik-Westworld-I'm gonna be sick-shut up Sidney that's not rock & roll." Irony, true, and it's lovely.
From songs about people looking for a job on "Job Centre," to shooting up drugs on "Glue And Smack," it's all very tongue in cheek. Most of the songs are upbeat. There are a few ballads like "Synthesizers in the Rain" that sound like early OMD or Human League. It's all fun and very entertaining. So, go out and trade in your leather for Denim On Ice. It will have you bopping up and down in no time.
If you like Denim, check out the following bands: early BAD, Cars pre-Heartbeat City, OMD, Pulp, Sweet, Chris Knox and Carter USM.
Also, be sure to pick up some Felt. They were Creation's greatest band! -Scotty M

Talkin 'Bout You 7"
Pin Up Records
Bismarckstr. 23
33615 Bielefeld
Germany
This BC (that's British Columbia, Canaduh) foursome have brought us the rockinist piece of 7" vinyl my impressionable ears have heard in a long long time. The production is lower-fi than I am used to from this band, giving these songs a low down dirty edge which makes me squeal with glee.
The A-side, "Talkin 'Bout You" is a great garage song with hooks in all the right places. But the B-side, "Chimo, chimo" is a soon-to-be-classic, mostly instrumental tune with wild frolicking guitar parts punctuated with the yelling of "chimo chimo!" and some Italian gibberish.
Hearing this record caused me to have an out-of-body-experience in which I appeared to the Smugglers as God and demanded that they record a full length album. Which they did, and it was Good. Keep an ear out for Selling the Sizzle, coming soon to a radio station near you.
-lizzie Boredom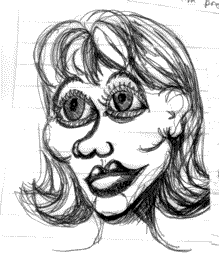 lizzie Boredom

Fish Booty
Bun Length Records
PO Box 2174
Berkeley, CA 94702
I would certainly like to cry on your shoulder right now, because I cannot find words fitting enough to describe the sheer giddiness that I feel when listening to this album. The music is like a jigsaw puzzle, and when you put it all together the picture is of a clan of porcine hill-
billies, with their genitals plugged into electronic amplifiers. Songs jump around from punk-spazz to loungey, acid-stomp, each with a pervading sense of silliness. Schlong rips through the boundaries of punk-rock, with the assistance of eight inter-planetary elves, taking us all on the roller-coaster through the Lord's colon. I like. -Sean

Mortal City
Razor & Tie Entertainment
PO Box 585, Cooper Station
New York, NY 10276
Dar Williams' debut CD, The Honesty Room, out last year, was pure folk genius. Some have called her urban-folk, but she thinks it may be more like suburban-folk. And I agree, she lacks the edge of urban folk, but it in no way lessens the end result. In fact, I think it makes her music even more amazing. She writes catchy, hooky, intricate songs about the oddest assortment of things that tra-la-la along and then, bam, floor you with humor, or emotion, and keep you listening over and over.
Mortal City is not as brilliant as her first album, but nonetheless contains some gems. The most brilliant of these gems is the second track, "February." Achingly beautiful with cello and lyrics full of melancholy and longing, I can and have listened to this song repeatedly. The first track, "Cool As I Am," has a full-on band along with congas and a digeridoo. Having initially heard this live with just a guitar, I was at first disappointed with the production, but now I love it. And how can you not love this slap-in-the-face song? It's addressed to an old boyfriend who points out other women in an attempt to threaten the singer. "I will not be afraid of women," is her response.
"The Christians and The Pagans" is a perfectly done song about a pagan lesbian couple who spend Christmas with their Uncle's family. The only track here that is not written by Dar is the strong and pretty "Family," written by Pierce Pettis. This is a singer-songwriter to watch. In fact don't watch, just listen. -Kara Whacked