6 a.m. Mixed Up Class
Romain
Mixed Up Class attempts to associate more than names and dates with mostly classical music, and to reach areas of the genre that are inaccessible to elevator music stations.
9 a.m. Hot Coffee and a Full Tank of Gas
Kara Whacked
Hit the road with Kara Whacked every Monday morning on Hot Coffee and a Full Tank of Gas. Kick back and enjoy the drive while you listen to all kinds of acoustic, indie, folk, pop, lo-fi, and country with spurts of punk and spoken word...who knows where the road will take you.
noon Kill Kitty City
Kitty
All the scratches, purrs, screeches and wails of art rock, jazz, contemporary classical, and other new music.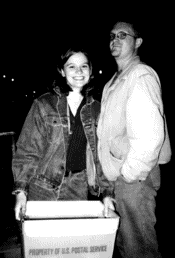 Kitty and Klee
3 p.m. Fuel
Stefan
Chomsky, Howard Zinn and other spoken word, Bay Area activist events, and a bit of grind and skronk to keep you entertained.
5:45 p.m. In Your Neighborhood
or Keep Your Head Up
In Your Neighborhood (every other Monday) is a forum featuring local community interest groups, focusing on interests of the community at large.
East Palo Alto teens discuss issues affecting their lives on Keep Your Head Up! (every other Monday)
6:15 p.m. Inside Stanford
Features campus-related news and feature stories. Associated Press reports, and special arts and personality segments.
7:00 p.m. Palo Alto City Council
9:00 p.m. Limbo
Jimmy
An energetic blend of music designed to get you off your fat butt and moving around: ska, punk, funk, surf, garage, and more tasty treats.
midnight On the Warpath
Big Chief
A pure energy punk show combined with children's songs and comedy bits plus my famous weekly chicken song that can only be heard On the Warpath.

6 a.m. Different Trains
Strick
Explore the non-rock alternative, with everything from 3'55" of silence to hours of noise.
9 a.m. Crossing Borders
Ofer
Crossing Borders traverses musical styles. Middle-Eastern minor chords lead through poppy major chords to bebop broken chords. Excursions to Kenya, Finland, Tennessee, and Oakland.
noon Wake Up & Live!
Russell
Jamaican music old and new. Russell showcases the best of all styles. From ska and rock steady to reggae and dancehall.
3 p.m. Watch Tomorrow Burn
Tim
Radio schizophrenia beneath a smooth musical surface. Not for the complacent or the tunnel-visioned.
6 p.m. Doc Talk
A weekly half-hour health and medicine talk show, bringing you the latest news from the medical world and interviews with the top minds and leaders that only Stanford can provide.
6:30 p.m. Extreme Conditions Demand Extreme Responses
Mike
Music sounds and genres put together into an easily digested show. Grind to piano, psychedelic to music concrete, industrial to folk.
9 p.m. It's OK, They Saw it On the Television
Secret Agent
Goatcore to emo, hip-hop to ambient, neo-classical to world. Seeking to purge the soul and clear the mind with music.
midnight The Live and Direct Show
Jake
Mix show dedicated to hip-hop.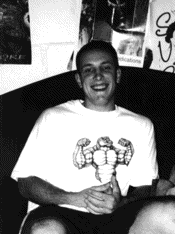 Jake

6 a.m. Paradox of Phenomena
Star Child
Dissected delivery of hip-hop elements restructured and presented with dynamic effect. The phenomena and paradox of a Black Music Culture.
9 a.m. Mood for Moderns
Chi-Hui
And I've found the answer lies in a real emotion, not the self-indulgence of a self-devotion.
noon Bayou Boogie Dance Party
Leonard
How about some high energy, high steppin' South West Louisiana music to start your day and get you moving with some Zydeco Cajun and swamp pop, with a little extra thrown in.
3 p.m. I'm Not Lisa Show
Mistress of Radio
Your mistress ties you down with a sultry session of music and titillating interviews with a weekly lashing of public questioning. Listen and become a slave of the I'm Not Lisa Show.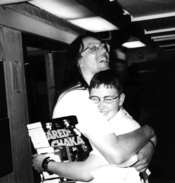 Queenie and Mike
6 p.m. Detention
Queenie
Trouble makers get their reward- crunchy punx, pop stars, riot grrrls, indie rockers and skate rats- every misfit gets detention sometime.
9 p.m. Wednesday Night Live
The best local live bands.
10 p.m. Take Out the Trash!
Lizzie Boredom
Lizzie Boredom brings you a swell assortment of her favorite rockin' trashy tunes.
1 a.m. The Minty Fresh Experience
DJ Mint
A fat laced and juicy tuxedo/dress designed for a mental wedding with DJ Mint.

6 a.m. The Revolution Will Not Be Televised
The Grassy Noel
An exploration of the last thirty years of the avant-garde. Nothing more. Nothing less.
9 a.m. Mudpie West
The Wizard
The Mississippi Mudpie show has moved to the West Coast but still mixes funk, jazz, and other rootsy stuff with the blues- hence a mudpie of Mississippi Roots music.
noon Know Rhythm
Raggedy Andy
The non-stop hip-hop drop.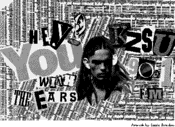 3 p.m. Oodie Doodie
Sean
I play punk, hardcore, and entertaining stuff. I'll do my best not to bore you.
(continued on page 10)
6 p.m. Sportsline
The KZSU Sports staff will preview and recap men's and women`s basketball throughout the Pac-10, live from Hugo's Sports Bar and Cafe.
9 p.m. The Travel Bar
Dr. Sauce
Vomit-flecked "oldies" from the frat-rock, beat, surfnick era of drunken stooges.
midnight The Dopestyle Memorial Peyote Turquoise & Ambrosia Provisional
Dopestyle
This is where the conflict between Dopestyle and the sly & slick guises of Hellmonic Demons lies- in which the battleground of predestined suffering and painlust take place on the Dopestyle Peyote Turquoise and Ambrosia Provisional 3 a.m. Insomnia
All live, all noise, all night

6 a.m.: Pipeline
Coles
My Grandpa used to say, "If dog, Jack Rabbit!" Well, no one knew what that meant, but I do know that on Pipeline you'll hear blues, punk, jazz, reggae, world, funk, bluegrass and of course the Weekly World News.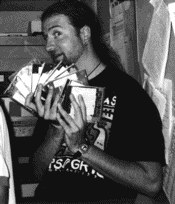 Coles
9 a.m. The Deep End
Zodiac Iller
Hardcore & Grind with jazz, funk, & rap for flavor.
noon A Selection of Sandwiches
Yasmin
Features the works of Stanford composers and the gammut of classical music from the 12th to the 20th century.
3 p.m. Surprise!
Gleen
Music from all over the constellations. GAME OF THE WEEK. MOBILE MUSIC SEARCH UNIT. Fun, fun, fun, and magical mayhem.
6 p.m. The Xyzzy Show
DJ Plugh
Rich melodies, magic words, pet sounds, and orange smoke basted with pop.
9 p.m. Urban Inner City Experience
M-Smooth
Ruff `n' rugged hip-hop on the real. No diggidy. Keep vinyl alive!
midnight Death Warmed Over
Christine Death
Death Warmed Over serves up steaming piles of the ripest death metal and grindcore; torturous, oppressive doom; and manic fits of noise- all churned into a dubious sludge. Feast well.

6 a.m. Electric Kool-Aid Radio
Huckleberry
Remember dancing in the mud with grass between your toes? Join me for daisy chains of groovy tunes.
9 a.m. Blues With a Feeling
The Byrd of Paradise
Delving into the entire world of Rhythm and Blues from the 40's to the 90's. Black and white, country and city, male and female, funky and smooth, low down and cool. Plus live on-air interviews with blues artists.
noon The Monkeywrench Show
Monkeywrench
High energy underground club music and thrift store cheeze LPs. Hear techno, newbeat, hardbeat, new wave acid house, space beat, rauschen, southern baptist preachers, and freak beat.
3 p.m. Ska's the Limit
Tom
An indie rock and punk show, blended with elements of poppy melodic thrash, surf, woman artists, some dark stuff, acoustic delights, and ska.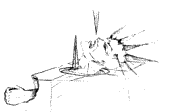 6 p.m. Mish-Mash
Justinsane
The voices in my head tell me to play an almost infinite universe of sounds that go from punk, jazz, techno, death metal, gothic, industrial, indie, ambient, psychedelic, etc.
9 p.m. Nubian Roots
Cat
Music by musicians with a quest for presenting music that reflects their existence. This music is based on everyday experiences, and has feeling, adventure, hope, love, creativity, and culture.
midnight Asylum
Mary
A sonic refuge for the unfamiliar, neglected, unexpected, and difficult musics of the world. Traditional and contemporary, all continents.
3 a.m. Steak Knives & Sedatives
Dave
Indie and experimental rock, usually on the slow drone side.

6 a.m. Lift Jesus Higher
The Watchman
Musical soul food prepared in the kitchens of heaven. Ready to satisfy your soul with reggae, rap, R&B, praises and worship, gospel and jazz. Bringing forth life into your situation!
9 a.m. Sunny Side Up
Bruce
A fine mix of bluegrass, folk, and alternative country to start off your Sunday mornings. Lots of local artists, some live music and scattered interviews. Also featuring Riders Radio Theatre at 9:30.
noon Speed Died Quick
Nate
My show lives for that hard-to-classify new stuff. Music that is disturbing, or at least danceable.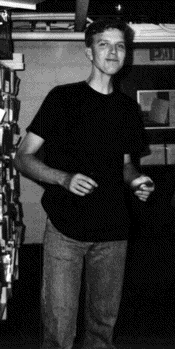 Nate
3 p.m. Radio Damage
Lovechild
Punk, garage, trash- plus live bands and interviews.
6 p.m. The Drum
Kevvy Kev
Hip-hop at its truest, to swell your brain stem.
9 p.m. An Epiphany of Sound
J.C.
With an emphasis on techno, industrial noise, and samples, An Epiphany of Sound will keep you entertained with live mixes of the latest music and examples of how sound is assembled to create music. Become enlightened.
midnight Insemination
Jon
A variety of genres ranging from trance, tribal, experimental, industrial, and perhaps some dub. Very little guitar.