About KZSU
KZSU is Stanford University's FM radio station, broadcasting across the Bay Area on 90.1 FM and across the world at kzsulive.stanford.edu. We exist to serve the Stanford community with quality radio broadcasts, including music, sports, news, and public affairs programming.
The station is owned by the Board of Trustees of Stanford University and is governed by a Board of Directors appointed by the President. We obtained our FM license in 1964 and upgraded from 10 to 500 watts in 1978. Before 1964, KZSU broadcast as an AM carrier current station (through the University's power supply) on 880 kHz, starting in 1947 as a part of the Department of Communication.
KZSU is a non-commercial station funded mainly by Stanford student fees, in addition to underwriting and listener donations. KZSU's staff is all volunteer, made up of Stanford students, staff, alumni, and community affiliates.
Programming
Besides our music shows, KZSU has news and public affairs programming, broadcasts of important Stanford events, the weekly Palo Alto City Council on Monday nights, live musical performances on Wednesday Night Live, and other specials.
During the regular school year, KZSU Sports broadcasts games from eight different Stanford sports. These include men's/women's soccer, women's volleyball, men's/women's basketball, football, baseball, and softball.
Departments
A few of KZSU's many departments have their own departmental webpages. For information about all of KZSU's departments, see our
contact page
.
Technical Information
On a good day, our 500-watt signal reaches from Oakland and parts of San Francisco in the north, to Fremont and points beyond in the east, and down to around Gilroy in the south. It's just about the whole Bay Area — most of the coverage of commercial stations which broadcast at 50,000 watts and more. KZSU broadcasts in full stereo, and without much of the compression favored by most Bay Area commercial stations.
We sometimes have interference problems with a few small stations in the south bay. These include a repeater for a Christian station broadcasting out of Idaho and a pirate station that plays, ahem, pretty bad music. Please let us know if you've experienced this interference — any information you can give us will help.
For more technical information, see our technical information page.
Logos and Banners
Feel free to use any of the images below to promote KZSU online or in print. Click on the thumbnail for a larger version. If possible, please link back to our homepage at kzsu.stanford.edu. Note that these images may not be used to imply any association or affiliation with KZSU. Thanks for spreading the word!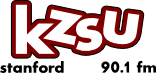 [SVG Version]
Day of Noise
KZSU holds Day of Noise annually. 24 hours straight of live, improvised noise and experimental music from KZSU's studios in Memorial Auditorium. Check out the Day of Noise Website for event details.
Zebra Gallery
We may or may not have a zebra gallery. We can neither confirm nor deny this.